Norwegian Buhundt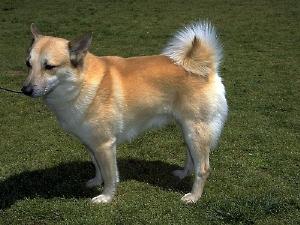 Dog Breed Group

Working Dogs

Origin of Breed

Norway

Life Expectancy

12 to 15 years

Color

Wheaten, Red, Black

Coat

The coat is relatively short and smooth with a harsh overcoat and soft wooly undercoat. Males carry more ruff than females and a

Temperament

The Buhund is a friendly and lively dog. Like most working and herding breeds he is easily trained, is a good watchdog and very

Good with Children

The Buhund has been described as the ideal family dog who is highly affectionate and intelligent. They oves human companionship

Average Size - Male (in)

17 - 18

Average Size - Female (in)

17 - 18

Average Weight - Male (lbs)

26 - 40

Average Weight - Female (lbs)

26 - 40
Breed Description
The Norwegian Buhund or "Norsk Buhund," a herding dog of the spitz group, is the farm dog of Norway. "Bu" in Norwegian means homestead or the mountain hut lived in by shepherds at the summer pastures, and "hund" of course means dog. Buhunds taken along by the Vikings on their travels and colonizing journeys over 1,000 years ago were the ancestors of the Iceland Dog and influenced the collie breeds. The Buhunds are excellent obedience and agility dogs and have demonstrated abilities in fields as diverse as working with the British Royal Air Force, police dog training and as hearing dogs for the deaf.
Breed Infobits
The Norwegian Buhund is also known as the Norsk Buhund, Norwegian Sheepdog.
The Norwegian Buhund can be kept in a standard-sized garden, as it is usually motivated enough to run around exercising itself.
Disclaimer: Pets.ca cannot be responsible for the accuracy of the above presented information. Please double check all information prior to making any decisions about purchasing this or any breed. If you think we have made an error with some of the information presented here, please e-mail us at breedprofiles@pets.ca.