Neapolitan Mastiff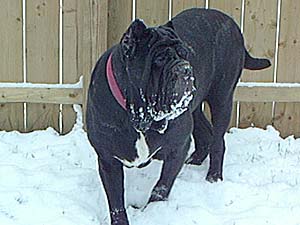 Dog Breed Group

Working Dogs

Origin of Breed

Italy

Life Expectancy

10 Years

Color

Grey (also referred to as Blue), Black, Tawny and Mahogany - All colors may have brindle, white is acceptable on the tips of the

Coat

Short, hard and shiny

Exercise Needs

Needs about 30-60 minutes per day.

Temperament

Balanced, protective of his human family

Good with Children

Affectionate and protective with the its families children.

Grooming Needs

2-3 times a week.

Average Size - Male (in)

25.5 - 30

Average Size - Female (in)

23.5 - 27

Average Weight - Male (lbs)

150 - 185

Average Weight - Female (lbs)

145 - 165

Health Issues

Cherry eye is common in the breed, must be removed not tacked down. A good diet is paramount for this fast growing large breed.v

Living Conditions

Prefers to be close to family - whether that is out or in the house.
Breed Description
The Neapolitan Mastiff is a awe inspiring guard dog. Massive bone structure with an express full face, joined with extreme intelligence and extreme loyalty, this Mastiff is the top defender and friend. Tracing its roots to the Molossian dogs before Christ, the Neapolitan Mastiff has a rich and intriguing history. Appearing to be a mix of a Lion, Gargoyle and Mollosser this breed is truly a work of fine Italian art. Brought back from near extinction after World War II by a dedicated group of breeders in Italy, this breed still continues to flourish in Italy and recently the United States.
Breed Infobits
The Neapolitan Mastiff is a classic gentle giant.
Disclaimer: Pets.ca cannot be responsible for the accuracy of the above presented information. Please double check all information prior to making any decisions about purchasing this or any breed. If you think we have made an error with some of the information presented here, please e-mail us at breedprofiles@pets.ca.