Kuvasz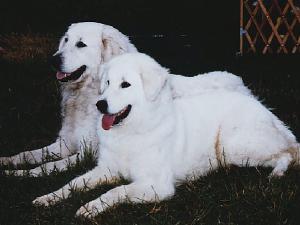 Dog Breed Group

Working Dogs

Origin of Breed

Hungary

Life Expectancy

12 to 14 years.

Color

White, Ivory

Coat

Harsh, Wavy

Exercise Needs

Long walks or hikes an a large fenced in yard for exercise.

Temperament

The Kuvasz must have early socialization and obedience training at a young age if it is to be a well-behaved member of the famil

Good with Children

The Kuvasz has a natural affinity with children. It is very protective and forms a strong bond with its owner. It should be thor

Grooming Needs

Requires daily brushing to keep his coat in good shape and free from parasites. Sheds in warm weather.

Average Size - Male (in)

28 - 30

Average Size - Female (in)

26 - 28

Average Weight - Male (lbs)

100 - 115

Average Weight - Female (lbs)

70 - 90

Health Issues

Eyelid defect, hip dysplasia.v

Living Conditions

Space is very important for he is a large, active breed. They are more suited for country living, but will adapt if a large fenc
Breed Description
The Kuvasz is a Hungarian breed of guard and shepherd dog that earned a reputation as a watchdog unexcelled during the European Middle Ages, when it was kept by kings and nobles. The Kurds are said to have introduced the Kuvasz to Hungary in 110. The dogs were highly prized by Hungarian royalty by the fifteenth century. Most believe that the Kuvasz is related to both the Maremma and the Pyrenean Mountain Dog. The breed then spread to Turkey, India, Tibet, and China. The kuvasz is a large, sturdily built dog with a slightly wavy, pure-white coat and a handsomely shaped head. The kuvasz makes a loyal and stalwart companion, though it is not overly demonstrative. It is a fast and graceful runner and has a marked air of dignity. As a guard dog it is very protective, and it can act on its own initiative without instruction.
Breed Infobits
The Kuvasz is a bold and very forthright dog.
The resemblance of the Kuvasz to the Maremma Sheepdog and the Pyrenean Shepherd suggests a similar origin.
The plural of Kuvasz is Kuvaszok.
Disclaimer: Pets.ca cannot be responsible for the accuracy of the above presented information. Please double check all information prior to making any decisions about purchasing this or any breed. If you think we have made an error with some of the information presented here, please e-mail us at breedprofiles@pets.ca.