Greater Swiss Mountain Dog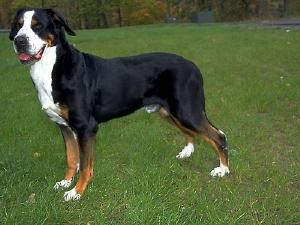 Dog Breed Group

Working Dogs

Origin of Breed

Switzerland to pull farmers' carts.

Life Expectancy

10 to 12 years

Color

Black with bright, symmetrical russet and white markings.

Coat

Stiff and Short

Exercise Needs

Needs regular exercise and plenty of wide open spaces to enjoy a free run.

Temperament

Bold, faithful, willing worker. Alert and vigilant. The Greater Swiss Mountain dog is eager to work and loves farm chores such a

Good with Children

They make an excellent family dog, with a sense of duty to its family and home. Makes a good watchdog.

Grooming Needs

Regular grooming of his coat is required with a bristle brush.

Average Size - Male (in)

23.5 - 28.5

Average Size - Female (in)

23.5 - 28.5

Average Weight - Male (lbs)

130 - 135

Average Weight - Female (lbs)

130 - 135

Health Issues

Hip dysplasia, eye problems.v

Living Conditions

More suited to country living than city life.
Breed Description
The Greater Swiss Mountain Dog is considered the oldest of the Swiss breeds and was instrumental in the early development of both the St. Bernard and the Rottweiler. There are several theories regarding the ancient origins of the Swiss Sennenhund breeds. The most popular theory states the dogs are descended from the Mollasian, a large Mastiff-type dog that accompanied the Roman Legions on their invasion of the Alps in the 1st century BC However, a second theory holds that the Phoenicians (c. 1100 BC) brought a large breed of dog with them to settlements in Spain, and that these dogs later migrated eastward to influence the development of the Spanish Mastiff, Great Pyrenees, Dogue de Bordeaux, and eventually the large Swiss breeds. Yet a third possibility is that a large breed was indigenous to central Europe as far back as the Neolithic period. Whether or not a large breed was already in existence at the time of the Roman invasion of the Alpine regions, it seems clear that the Roman dogs would have been bred with these dogs. As a result, several breeds, including the Greater Swiss Mountain Dog, St. Bernard, and Bernese Mountain Dog, are largely descended from the Roman Mollasian.
The breed was rediscovered earlier in this century by Franz Schertenlieb and is a probable descendent of the great Roman mastiffs. Franz Schertenlieb took his discovery to Albert Heim who had thought this breed extinct. Everyone worked together and until the 1930s used dogs without pedigrees so long as they were a true reflection of the breed with required characteristics.
Breed Infobits
It is also known as the Grosser Schweizer, Sennenhund, and Great Swiss Cattle Dog
The Greater Swiss Mountain Dog also doubles as a good watchdog and has a marvelously throaty, deep-sounding bark.
Disclaimer: Pets.ca cannot be responsible for the accuracy of the above presented information. Please double check all information prior to making any decisions about purchasing this or any breed. If you think we have made an error with some of the information presented here, please e-mail us at breedprofiles@pets.ca.