Giant Schnauzer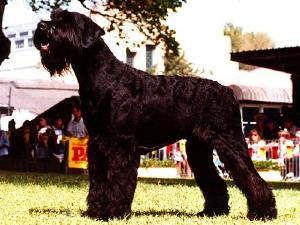 Dog Breed Group

Working Dogs

Origin of Breed

Germany for droving cattle.

Life Expectancy

11 to 12 years

Color

Salt-and-pepper, black, or black-and-tan.

Coat

Harsh and wiry coat with no tendency towards softness.

Exercise Needs

Regular and moderate exercise.

Temperament

Loyal and protective. May be aggressive with strangers or other animals and if left alone outdoors will instinctively hunt roden

Good with Children

Gentle and friendly with children

Grooming Needs

Coat needs to be stripped twice a year to remove dead hairs.

Average Size - Male (in)

25.5 - 27.5

Average Size - Female (in)

23.5 - 25.5

Average Weight - Male (lbs)

66 - 78

Average Weight - Female (lbs)

66 - 78

Health Issues

May suffer from hip dysplasia and other orthopedic problems, as well as from eye diseases.v

Living Conditions

Adapts well to urban living but requires plenty of exercise.
Breed Description
he name for this breed comes from the German word for muzzle, schnauze, a reference to the distinctive mustache of the breed. The giant schnauzer, largest and most recent of the three Schnauzer breeds, was developed by Bavarian cattlemen who wanted a cattle dog like the standard schnauzer but larger. To produce such a dog, the standard schnauzer was crossed with various working dogs and, later, with the black Great Dane. The giant schnauzer is a robust dog with a wiry coat. It is salt-and-pepper, black, or black-and-tan. Originally a cattle dog, it was later used as a butcher's dog and a brewery guard. Since the beginning of the 19th century, it has been used extensively in German police work.
Breed Infobits
The Giant Schnauzer is related to the Miniature and the Standard varieties.
The word 'Schnauzer' comes from the German word 'schnauze' which means 'muzzle'.
The Giant Schnauzer carries itself with grace and style and has a personality to match.
It is also known as the Riesenschnauzer.
Disclaimer: Pets.ca cannot be responsible for the accuracy of the above presented information. Please double check all information prior to making any decisions about purchasing this or any breed. If you think we have made an error with some of the information presented here, please e-mail us at breedprofiles@pets.ca.