Bullmastiff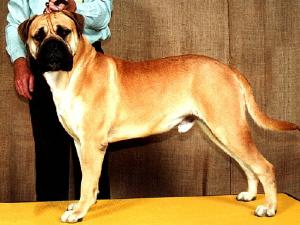 Dog Breed Group

Working Dogs

Origin of Breed

England to guard estates from poachers.

Life Expectancy

10 - 12 years

Color

Dark brindle, fawn, or red shades. May have white marks that appear on the chest.

Coat

Dense, coarse, water-resistant coat.

Exercise Needs

The breed tends to be lazy therefore requires regular on-leash exercise.

Temperament

Loyal and fearless, even-tempered and calm. Rarely loses its temper and is easy to train.

Good with Children

It is tolerant of children and craves human attention. Makes an excellent watchdog; it will catch an intruder, knock him down an

Grooming Needs

Requires regular brushing. Light shedder.

Average Size - Male (in)

25 - 27

Average Size - Female (in)

24 - 26

Average Weight - Male (lbs)

110 - 130

Average Weight - Female (lbs)

100 - 120

Health Issues

It is prone to bloat, hip dysplasia, and some eye problems. It does not tolerate extremes of temperature well.v

Living Conditions

Adapts well to urban living, but needs plenty of space.
Breed Description
The bullmastiff, a cross between the mastiff and the bulldog, was developed in 19th-century England; it was used chiefly to discourage poaching on estates and game preserves and was known as the "gamekeeper's night-dog." The bullmastiff is a tan, reddish brown, or brindled dog, with black on the face and ears. It stands 61 to 69 cm and weighs 45 to 59 kg. It is frequently used as a police and guard dog.
Breed Infobits
The Bullmastiff has developed a fearsome reputation as it is very confident and is scared of only a very few things.
Disclaimer: Pets.ca cannot be responsible for the accuracy of the above presented information. Please double check all information prior to making any decisions about purchasing this or any breed. If you think we have made an error with some of the information presented here, please e-mail us at breedprofiles@pets.ca.