Akbash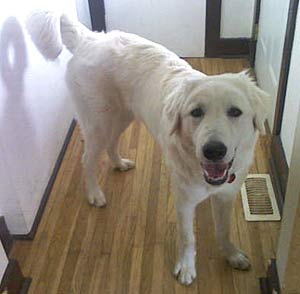 Dog Breed Group

Working Dogs

Origin of Breed

Turkey

Life Expectancy

10 to 11 years

Color

Solid white

Coat

Smooth or long, both double coat; thick with fringing

Exercise Needs

He needs regular exercise such as a run off-leash even though his actively level is low.

Temperament

The Akbash Dog is completely dedicated and devoted to its owners and any animals in its charge. These dogs possess intelligence

Good with Children

Will accept young children. Will accept other pets.

Grooming Needs

The Akbash Dog has a non-odor, non-matting coat so minimal grooming is required. They do shed more than average and could use re

Average Size - Male (in)

28 - 34

Average Size - Female (in)

28 - 34

Average Weight - Male (lbs)

90 - 140

Average Weight - Female (lbs)

90 - 140

Health Issues

Hip dysplasia, OCD.v

Living Conditions

Easily housebroken, he learns quickly and often adapts well to the home environment.
Breed Description
One of the oldest breads of the flock-guarding group, the Akbash Dog still carries the same physical and mental traits that characterized these dogs thousands of years ago. They were probably brought to the hymalayas of Turkey with migrations of peoples from the East. He is a prbable relative of the other great white herd guarders of Europe - the Komondor, Kuvasz, Tatra Mountain Sheepdog, and even the distant Pyrenean Mountain Dog
Breed Infobits
Akbash is a Turkish word meaning white head.
The Akbash Dog is found today in rural Turkey, and, as far as can be determined, the Akbash Dog has been serving as a livestock protection dog in Turkey for millennia.
The Akbash is also known as the Coban Kopegi and Akbas
Disclaimer: Pets.ca cannot be responsible for the accuracy of the above presented information. Please double check all information prior to making any decisions about purchasing this or any breed. If you think we have made an error with some of the information presented here, please e-mail us at breedprofiles@pets.ca.