Pug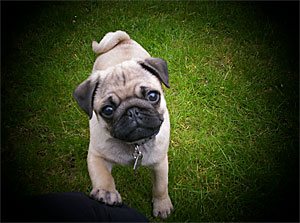 Dog Breed Group

Toy Dogs

Origin of Breed

China as a companion

Life Expectancy

12 to 14 years

Color

Silver, apricot, fawn or black, black mask and ears and black trace along back

Coat

Fine, smooth, short and glossy

Exercise Needs

Needs more than required exercise for Toy dogs. Enjoys a romp outdoors, or a walk around the block.

Temperament

Loyal, affectionate, quite and docile, vivacious and teasing.

Good with Children

Playful and loving with children, good with the elderly, will get along well with other family pets and dogs. Makes an excellent

Grooming Needs

Weekly brushing and daily cleaning of facial wrinkles. Nails and teeth need weekly attention. Sheds a lot and needs brushing at

Average Size - Male (in)

10 - 11

Average Size - Female (in)

10 - 11

Average Weight - Male (lbs)

14 - 18

Average Weight - Female (lbs)

14 - 18

Health Issues

He needs special care during hot humid weather because of the short nose. Do not leave out in the hot sun.v

Living Conditions

Suited to live in an apartment. An owner of a Pug should be a patient leader who desires a small, loving dog as a companion.
Breed Description
The Pug is a breed of toy dog that most believe that the Pug is a greatly scaled down relative of the Tibetan Mastiff and which probably originated in China. They were prized possessions of the Emperors of China and lived in a most luxurious atmosphere and at times were even guarded by soldiers. Records show that three types of short nosed dogs were bred by the Chinese. They were the Lion dog, the Pekinese and the Lo-sze. The Lo-sze or "Foo Dog" was the ancient Pug. The name comes from the Latin word pugnus, meaning "fist," a reference to the shape of the dog's face. They were taken on trading ships to Holland, where it became popular with the royal family of the time, the house of Orange after one saved the life of William, Prince of Orange, by warning the prince of the approach of Spanish troops at Hermingny; as a result, pugs became the symbol of Orangists, people who supported the royal family, and is often referred to as the Dutch Pug. The breed is believed to have been introduced in Britain by William III of Britain. The pug has a short muzzle and a tightly curled tail. It is a squarely built, muscular dog, with a large head, prominent dark eyes, and small, drooping ears. Its coat is short and glossy; colour is given in the breed standard as black or as silver or apricot fawn, with a black line on the back and a black mask on the face. Typically loyal and alert, the pug is a valued companion dog. A Pug's character is unique in that he is a clown at heart with a terrific sense of humor but at the same time he carries himself with great dignity. They are not too delicate for fun and games. A pug is anxious to please,anxious to learn and anxious to love. His biggest requirement is that you love him back.
Breed Infobits
The Pug is also known as Mops, or Carlin.
The Pug is miserable in hot conditions and care should be taken not to overheat them.
The Pug was brought to Holland from China four hundred years ago and was later perfected in England.
Disclaimer: Pets.ca cannot be responsible for the accuracy of the above presented information. Please double check all information prior to making any decisions about purchasing this or any breed. If you think we have made an error with some of the information presented here, please e-mail us at breedprofiles@pets.ca.