Poodle - Miniature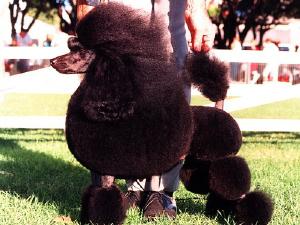 Dog Breed Group

Toy Dogs

Origin of Breed

Germany as a water retriever

Life Expectancy

13 to 20 years

Color

Solid colors only - black, white, gray, blue, silver-cream, red, apricot, chocolate, or cafe au lait. Eyes and nose color depend

Coat

Curly. Poodles are sometimes groomed into very elaborate cuts. Tail is docked; ears hang down.

Exercise Needs

Four periods of daily exercise totaling 80 minutes.

Temperament

Depends on size. Fun loving and highly intelligent, quick to learn, does exceptionally well in obedience work. Good-natured, sen

Good with Children

Good with other pets and children

Grooming Needs

Minimal Shedder. Daily brushing and professional clipping every 6 to 8 weeks to prevent matting.

Average Size - Male (in)

10 - 15

Average Size - Female (in)

10 - 15

Average Weight - Male (lbs)

varies

Average Weight - Female (lbs)

varies

Health Issues

Miniature Poodles have been exploited, so you have to be very careful. Standard Poodles are much less common, so the chances of v

Living Conditions

Does well in any living situation.
Breed Description
The Miniature Poodle is believed to have originated in either Germany or Russia where the standard poodle was used foremost as a water retriever. The word poodle comes from the German pudelin for the splash made by an oar hitting water. He shares common ancestors with the Irish Water Spaniel. In France is where he was bred to down in size. Well proportioned and squarely built, the Miniature Poodle was bred down from the Standard Poodle presumably by using the smaller specimens. In the 1950s the Miniature Poodle became a popular breed in many countries because it was believed that interest in working breeds would lessen as people migrated to towns. He is an intelligent breed with a sporty disposition and very easy to train. He is a delightful, good natured, lively dog. The Poodle makes an excellent family pet who will adapt to any situation and will try anything an owner wants.
Breed Infobits
There are 3 types of poodle; the Standard Poodle, Miniature Poodle, and Toy Poodle that differ mainly by size.
Disclaimer: Pets.ca cannot be responsible for the accuracy of the above presented information. Please double check all information prior to making any decisions about purchasing this or any breed. If you think we have made an error with some of the information presented here, please e-mail us at breedprofiles@pets.ca.