Pekingese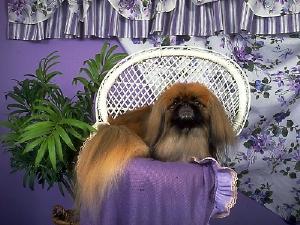 Dog Breed Group

Toy Dogs

Origin of Breed

China as a companion.

Life Expectancy

12 to 14 years.

Color

All colors and markings are permissible.

Coat

Long, straight, double-coated with a coarse top coat, thick undercoat and profuse mane and feathered tail.

Exercise Needs

Daily grooming with a brush or comb, taking extra care around the hindquarter which can become soiled or matted. Females will sh

Temperament

The Pekingese can be stubborn and disobedient but has the courage of a lion. It is said that his independence and self esteem ar

Good with Children

Best with older, quieter, children as he does not like to be disturbed while sleeping. Good with other pets if socialized at a y

Grooming Needs

Daily grooming with a brush or comb, taking extra care around the hindquarter which can become soiled or matted. Females will sh

Average Size - Male (in)

6 - 9

Average Size - Female (in)

6 - 9

Average Weight - Male (lbs)

< 14

Average Weight - Female (lbs)

< 14

Health Issues

Problems birthing, breathing problems and his eyes are sensitive and prone to corneal ulcers.v

Living Conditions

Just at home in a small apartment as a large house. The owner of a Pekingese needs to be patience leader who does not expect an
Breed Description
The Pekingese is a breed of toy dog developed in ancient China, and is one of the most ancient dogs in the world. This Chinese breed was bred and preserved at the Imperial Palace for centuries where it was held sacred and was kept as a palace dog by members of the Imperial family. He is believed to be a close relative of the Lhasa Apso and Shih Tzu. The first Pekingese arrived in Europe and subsequently the US when British Army officers raided the Summer Palace in Peking following the Boxer Rebellion of 1860. Five Imperial Pekinese looted from women's apartments were brought to England. Looty, one of the five, was presented to Queen Victoria. The Pekingese has been known, both in the Orient and in the West, as the "lion dog"-presumably because of its appearance, although it is also acclaimed as having a lionlike independence and courage. It stands about 6 to 9 inches (15 to 23 centimeters) and weighs up to about 14 pounds (6.5 kilograms). The celebrated "sleeve dogs" are very small Pekingese once carried by Chinese royalty in the sleeves of their robes. A long-haired dog, the Pekingese has a full mane and heavily haired thighs, forelegs, tail, and toes. Its head is broad and flat, with hanging ears and a short, wrinkled muzzle. The coat may be solid or variegated in colour, but there is always a black mask across the face.
Breed Infobits
The Pekingese probably has Spitz blood.
Disclaimer: Pets.ca cannot be responsible for the accuracy of the above presented information. Please double check all information prior to making any decisions about purchasing this or any breed. If you think we have made an error with some of the information presented here, please e-mail us at breedprofiles@pets.ca.