Miniature Pinscher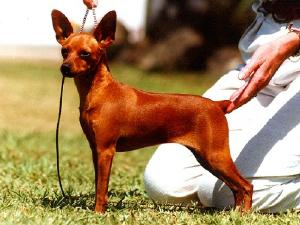 Dog Breed Group

Toy Dogs

Origin of Breed

Germany as a ratter and companion.

Life Expectancy

About 15 years.

Color

Black, blue, or chocolate.

Coat

Hard, smooth, short coat

Exercise Needs

Needs vigorous exercise for a little dog. Give him the opportunity to run and play in the yard or daily walks on a lead.

Temperament

The Miniature Pinscher is fun loving and extroverted and makes a topnotch show dog because of its self-esteem. Small, hardy and

Good with Children

He is a good pet for an older child who is aware that he is delicate and breakable.

Grooming Needs

Comb, brush or rub his smooth coat regularly to remove loose hairs. Shampoo only when necessary. Teeth should be check and clean

Average Size - Male (in)

10 - 12.5

Average Size - Female (in)

10 - 12.5

Average Weight - Male (lbs)

10

Average Weight - Female (lbs)

10

Health Issues

Susceptible to Patella luxation and eye problems.v

Living Conditions

An apartment is adequate as long as some form of exercise is given. Remember he can be very noisy. An owner of a Miniature Pinsc
Breed Description
Unlike the Miniature Poodle, which is a scaled-down version of the Standard Poodle, the Miniature Pinscher is not a smaller version of anything, especially the much-larger Doberman Pinscher. Both may have descended from the German Pinscher, a medium-sized black and tan dog bred to control vermin in the barnyard, but there the relationship ends. The Miniature Pinscher came from crosses with breeds as diverse as the Dachshund and the Italian Greyhound. Part of the confusion in origin comes from the word "pinscher," which is a descriptive term like "terrier" or "setter" that denotes the dog's method of working, not his heritage. In German, "pinscher" means "biter" and derives from the dog's habit of jumping on and fiercely biting its quarry. The German pinscher family includes the Affenpinscher, a toy breed with a wiry coat, and the schnauzers. The name may also be borrowed from the English "pincher," meaning "one who seizes or pinches." The Miniature Pinscher made its way to the US in the early 1900s and became an immediate success. It is a diminutive dog with an elegant way of going, a spunky dog with a sense of humor, an energetic dog with a bouncy personality that brightens days and sometimes causes apoplexy in its owners. Bred to keep farm kitchens free of mice and rats, this little guy can be ferocious when necessary and scrappy on a whim.
Breed Infobits
The Miniature Pinscher is also known as a Min-Pin, the Reh Pinscher or Zwergpinscher.
The Miniature Pinscher is a small-bodied dog with a huge spirit.
Disclaimer: Pets.ca cannot be responsible for the accuracy of the above presented information. Please double check all information prior to making any decisions about purchasing this or any breed. If you think we have made an error with some of the information presented here, please e-mail us at breedprofiles@pets.ca.