Mexican Hairless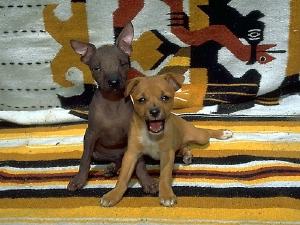 Dog Breed Group

Toy Dogs

Origin of Breed

Mexico as a companion or "bed warmer"

Life Expectancy

12 - 15 years

Color

Skin color is pink at birth, turning to an adult solid orange, slate or black at about 1 year old.

Coat

Both a coated (powder puff) and uncoated (characteristic) dog can be produced in a litter. Approximately one-third of all dogs a

Temperament

The Mexican Hairless is intelligent, alert, and loyal. It is wary of strangers and makes a good watch dog. This dog breed requir

Grooming Needs

Because it is hairless, it is also hypoallergenic, odorless, and flealess.They clean themselves by licking their body like a cat

Average Size - Male (in)

11 - 12

Average Size - Female (in)

11 - 12

Average Weight - Male (lbs)

< 10

Average Weight - Female (lbs)

< 10

Health Issues

The Mexican Hairless requires considerable attention to avoid sunburn and both hyper- and hypothermia. This breed requires a swev
Breed Description
The Mexican Hairless is a breed of toy dog. The origin of these dogs goes far back into history but it is thought that they probably descended from hairless Chinese dogs that were taken to Mexico in the late 16th century. Previously the natives ate their flesh which was highly prized. The breed was regarded as the earthly representative of the god "Xolotl", from which his name obviously originates. His task was to accompany the souls of the dead to their eternal resting place. It is a rather long-legged dog that generally weighs less than 10 lbs. It is hairless except for a topknot and some fuzz on its long tail. Its soft skin is pink, slate, or gray in color. The breed is known as the Chinese dog in Mexico.
Breed Infobits
Although the Mexican Hairless is often regarded as a novelty, it behaves like any normal dog.
Both hairless and coated dogs may appear in the same litter.
Disclaimer: Pets.ca cannot be responsible for the accuracy of the above presented information. Please double check all information prior to making any decisions about purchasing this or any breed. If you think we have made an error with some of the information presented here, please e-mail us at breedprofiles@pets.ca.