Cavalier King Charles Spaniel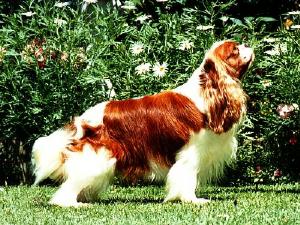 Dog Breed Group

Toy Dogs

Origin of Breed

England as a companion

Life Expectancy

9 - 11 years

Color

Several classes of colours: Black and Tan - black with bright tan marks above eyes, head, chest, legs, underside of tail; white

Coat

Long, silky, free from curl.

Exercise Needs

Minimal exercise is needed, but he does enjoy a romp in the park or a backyard with a playmate.

Temperament

Bred and born as a companion, it is the perfect lap dog. A small spaniel that enjoys great activity. He is gentle, loving and an

Good with Children

Makes and excellent family pet. Good with children but should be older if just a puppy. Makes an adequate watch dog.

Grooming Needs

Weekly grooming with a firm bristle brush with special attention to the ears. Bathe only when necessary.

Average Size - Male (in)

12 - 13

Average Size - Female (in)

12 - 13

Average Weight - Male (lbs)

10 - 18

Average Weight - Female (lbs)

10 - 18

Health Issues

Patella luxation, eye conditions, heart murmurs and ear infections.v

Living Conditions

Indoor dog. Best with fenced yard and walks on leash. Makes an excellent apartment dog.
Breed Description
The Cavalier King Charles spaniel is a different breed from the English Toy Spaniel (which is also known as the King Charles Spaniel). It appears in the same coat colours as the English toy spaniels, but it is larger and has a longer muzzle.The Cavalier King Charles spaniel is a breed of dog that originated in Great Britain and, after years of mixed breeding, was revived again in 1920s. Princess Margaret of England acquired one in the 1960s and the breed's popularity soared.It is known for its charmingly sad expression and beautiful coat, which is long, silky, and very feathery. Its coat may be black and tan, solid red, red and white, or tricolor. It posesses feathery ears which hang quite long and to the side of the head. Its tail is usually not docked but is feathery with some white at the tip. Its eye color is dark
Breed Infobits
Caring owners will provide their Cavalier King Charles Spaniel with plenty of activities to prevent them from becoming bored.
The Cavalier King Charles Spaniel has the same rootstock as the English Toy Spaniel (King Charles Spaniel) and has noteworthy senses of smell and vision.
The Cavalier King Charles Spaniel's magnificent coat will benefit from regular brushing.
As the Cavalier King Charles Spaniels are incredibly cute to look at, they can be cuddled and kissed and treated as a toy.
Disclaimer: Pets.ca cannot be responsible for the accuracy of the above presented information. Please double check all information prior to making any decisions about purchasing this or any breed. If you think we have made an error with some of the information presented here, please e-mail us at breedprofiles@pets.ca.