Affenpinscher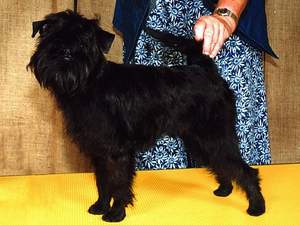 Dog Breed Group

Toy Dogs

Origin of Breed

Germany in the 1600's to hunt rodents

Life Expectancy

14 - 15 years

Color

Usually Black, but can be black/tan, red, gray and other

Coat

Short and Wiry, with bushy eyebrows and a beard

Exercise Needs

Low. Requires very little exercise. Walks or access to a secured yard where he can play for hours.

Temperament

General demeanor is tame, alert, and inquisitive with great loyalty and affection toward its master and friends. The breed is ge

Good with Children

Yes, will get along well with children but is not recommended for families with small children.

Grooming Needs

Brushing two to three times a week. Ear, tooth, and nail care are required weekly.

Average Size - Male (in)

9 - 11.5

Average Size - Female (in)

9 - 11.5

Average Weight - Male (lbs)

7 - 8

Average Weight - Female (lbs)

7 - 8

Health Issues

Usually very healthy. Good grooming will prevent skin and coat problems. He has fine bones and should never jump off of furniturv

Living Conditions

Apartment or country, great companion for people with limited physical activity.
Breed Description
Very little historical material on this breed exists. The breed was developed in Germany as revealed by his name. He was slightly larger in size than is currently the case and was used as a ratter in stables and on farms. Some say that it is the ancestor of the Brussels griffon, although there is no proof of this. With their similarities it is possible that they are related.He was once a prized possession of royalty and made his way into a few paintings by Old Masters. The affenpinscher stands 26 cm (10 inches) or less and weighs 3 to 3.5 kg (7 to 8 pounds). A sturdily built, terrier-like dog, it has small, erect ears, round black eyes, and a short, docked tail. Its wiry, preferably black coat is short on parts of the body but longer on the legs and on the face, where it produces the monkey-like expression for which the breed is named.
Breed Infobits
The Affenpinscher can make an excellent watch-dog and bravely defends its territory.
The Affenpinscher is otherwise known as the 'Monkey Dog'.
The Affenpinscher was first used to hunt rodents.
Disclaimer: Pets.ca cannot be responsible for the accuracy of the above presented information. Please double check all information prior to making any decisions about purchasing this or any breed. If you think we have made an error with some of the information presented here, please e-mail us at breedprofiles@pets.ca.