West Highland White Terrier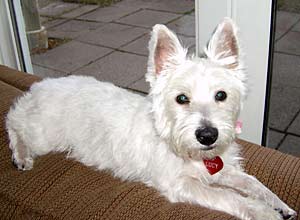 Dog Breed Group

Terrier Dogs

Origin of Breed

Scotland to hunt vermin

Life Expectancy

14 years or more

Color

Solid white with dark eyes and a black nose.

Coat

About two inches long, straight, and rough. Naturally short tail stands erect; ears prick up.

Exercise Needs

Three periods totaling 45 minutes per day.

Temperament

High energy level. Feisty, bold and assertive. Not as stubborn as many terriers, but still quite independent.

Good with Children

Good with everyone and accepting of other animals but can be scrappy with other dogs.

Grooming Needs

Low Shedder. Brush 3 times per week. Professional clipping required 4 to 6 times per year.

Average Size - Male (in)

11

Average Size - Female (in)

10

Average Weight - Male (lbs)

15 - 22

Average Weight - Female (lbs)

15 - 22

Health Issues

Healthy and robust. Some problems with skin allergies, patella luxation, hernias and cranio mandibular osteopathy (lion jaw), dev

Living Conditions

Good in both urban and rural settings.
Breed Description
The West Highland White Terrier is a small well-balanced hardy looking terrier, exhibiting good showmanship. He is an elegant looking with a beautiful, shiny white coat and bright, button eyes, shaggy eyebrows and a black nose. He is an intelligent dog who learns quickly. He loves human companionship and will play with his family indoors or out. His size makes him great for an apartment but he is just as home in the country. A great companion for children of all ages. He is one of the most popular breed of dogs today. He ranks the highest among terriers as a hunter of small animals. He was developed in the high mountains of west Scotland and claims ancestry to the Scotch Terrier. He originally was bred to hunt vermin.
Breed Infobits
The West Highland White Terrier makes a wonderful companion animal.
The West Highland White Terrier originated when a breeder got some white pups in a litter of Cairn Terriers.
The West Highland White Terrier responds well to training even at a very early age.
Disclaimer: Pets.ca cannot be responsible for the accuracy of the above presented information. Please double check all information prior to making any decisions about purchasing this or any breed. If you think we have made an error with some of the information presented here, please e-mail us at breedprofiles@pets.ca.