Skye Terrier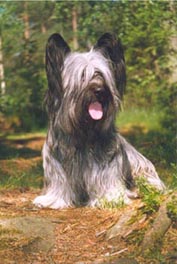 Dog Breed Group

Terrier Dogs

Origin of Breed

Isle of Skye, Scotland

Color

Grey, silver, black, cream, bluish or fawn

Coat

Long outercoat, short wooly undercoat

Exercise Needs

Needs regular exercise and will adapt to an appartment.

Temperament

Good tempered and loyal. Cautious with strangers

Good with Children

Good with children it knows well.

Grooming Needs

Coat matts easily. Needs several brushings a week.

Average Size - Male (in)

10

Average Size - Female (in)

9.5

Average Weight - Male (lbs)

25

Average Weight - Female (lbs)

25
Breed Description
Breed Infobits
The Skye Terrier can be very territorial, and so it makes an excellent watch-dog.
The Skye Terrier's coat should be thoroughly groomed each week.
Disclaimer: Pets.ca cannot be responsible for the accuracy of the above presented information. Please double check all information prior to making any decisions about purchasing this or any breed. If you think we have made an error with some of the information presented here, please e-mail us at breedprofiles@pets.ca.