Scottish Terrier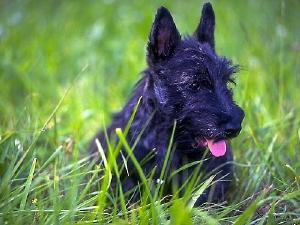 Dog Breed Group

Terrier Dogs

Origin of Breed

Scotland, vermin hunter.

Life Expectancy

12 - 14 Years

Color

Black, wheaten or brindle of any shade

Coat

Sharp, dense and wiry with a short, dense, soft undercoat.

Exercise Needs

Can obtain his exercise from a reasonable sized fenced-in yard.

Temperament

The Scottish Terrier is active, assertive and loyal. He makes an excellent watchdog, but can be stubborn.

Good with Children

Good with school aged children. Good with other pets, but needs early socialization.

Grooming Needs

Regular brushing, extra care during molting. Bathe or dry shampoo as necessary. Professionally trim his coat twice a year.

Average Size - Male (in)

10

Average Size - Female (in)

10

Average Weight - Male (lbs)

19 - 22

Average Weight - Female (lbs)

18 - 21

Health Issues

Sensitive to fleas, skin problemsv

Living Conditions

An apartment is adequate if sufficient exercise is given.
Breed Description
Known as the "Scottie", the Scottish Terrier has a compact, strong body; short legs, pricked ears and naturally erect tail. He tends to be a one or two person dog and does his best as a pampered pet. While a little stubborn, he still makes a loyal pet if given the change to survey the scene before committing himself. A very good watchdog, but he needs to be keep secured as he has a tendency to wander. Originally known as the Aberdeeen Terrier after the Scottish city, he was originally bred with the purpose of dispelling vermin. The Scottish Terrier is the best known and possibly oldest of the Highland terriers.
Breed Infobits
The Scottie makes a good watch-dog as it soon recognizes its territory and will bravely defend it against intruders.
The Scottish Terrier is a charming little dog with a resolute spirit.
The Scottish Terrier was known as the Aberdeen Terrier until the late 1800s, after the town in which it was raised.
Disclaimer: Pets.ca cannot be responsible for the accuracy of the above presented information. Please double check all information prior to making any decisions about purchasing this or any breed. If you think we have made an error with some of the information presented here, please e-mail us at breedprofiles@pets.ca.