Norwich Terrier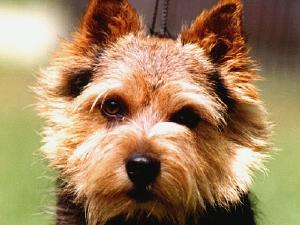 Dog Breed Group

Terrier Dogs

Origin of Breed

England, farm dog and ratter.

Life Expectancy

12 - 14 Years

Color

All shades of red, wheaten, black and tan, or grizzle

Coat

Hard, wiry and straight.

Exercise Needs

Should have daily exercise such as a walk on a leash but a boisterous play session will also suffice.

Temperament

The Norwich Terrier is alert and friendly. He is a feisty, busy, curious little dog. He is a quick learner but does have a mind

Good with Children

Good with children, if raised with them. Enjoys the company of other dogs, needs socialization to cats.

Grooming Needs

Daily combing and brushing of his shaggy coat is suggested. Take extra care when shedding. You may want to have him professional

Average Size - Male (in)

Maximum 10

Average Size - Female (in)

Maximum 10

Average Weight - Male (lbs)

12

Average Weight - Female (lbs)

12

Health Issues

Cardiomyopathy, patellar luxation.v

Living Conditions

Ideal for an apartment as long as he receives sufficient exercise.
Breed Description
The Norwich Terrier is a native breed of Norfolk, England. His coat is generally short and smooth on the head and ears. He is a powerful dog for his size with a tight-lipped mouth and a scissors bite. A small, portable an adaptable breed he makes a delightful companion who loves to hunt, dig and investigate. It is thought that during the late half of the nineteenth century near Cambridge England a small Irish Terrier was crossed with the Yorkshire Terrier to produce a small red and often black and tan "Cantab" terrier. Originally considered a farm dog and ratter.
Breed Infobits
The Norwich Terrier is a playful little dog with most endearing ways.
Disclaimer: Pets.ca cannot be responsible for the accuracy of the above presented information. Please double check all information prior to making any decisions about purchasing this or any breed. If you think we have made an error with some of the information presented here, please e-mail us at breedprofiles@pets.ca.