Norfolk Terrier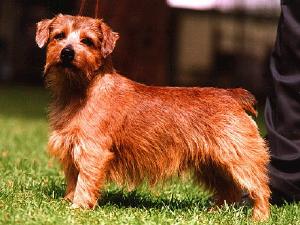 Dog Breed Group

Terrier Dogs

Origin of Breed

England, vermin hunter.

Life Expectancy

12 - 14 Years

Color

All shades of red, wheaten, black and tan or grizzle

Coat

Hard, wiry and straight.

Exercise Needs

Enjoys activity and should be given the opportunity for free play, walks on a leash and the opportunity to dig as they are natur

Temperament

The Norfolk Terrier is outgoing, appealing and clever. He is also a feisty, busy and curious dog.

Good with Children

Good with children. Good with other pets.

Grooming Needs

Regular brushing of his shaggy medium, length water proof coat. Take extra care when shedding. Minimal clipping is required. Bat

Average Size - Male (in)

9 - 10

Average Size - Female (in)

Slighlty Smaller

Average Weight - Male (lbs)

11 - 12

Average Weight - Female (lbs)

11 - 12

Health Issues

Heart murmurs, back problems, genetic eye disorders.v

Living Conditions

Home with a fenced yard is the best, but he will adapt to an apartment if a daily walk is given.
Breed Description
Expressive dropped ears, game and hardy, he is active and compact, free-moving with good substance and bone. A natural, weather-resistant coat and short legs, he is perfect in the field. He has an affectionate personality with a passion for digging. Playful, he enjoys playing catch, hiking in the woods or burrowing after little critters. The Norfolk Terrier is a cousin to the Norwich Terrier and is similar except his ears are rounded instead of pricked. Bred in Cambridge, Market Harborough and Norwich in the early twentieth century he was mainly used as a hunter of vermin. He was a mixture of gypsy's dogs that were crossed with weaver's pets.
Breed Infobits
The Norfolk Terrier may be only small in stature, but it is very large in spirit.
Disclaimer: Pets.ca cannot be responsible for the accuracy of the above presented information. Please double check all information prior to making any decisions about purchasing this or any breed. If you think we have made an error with some of the information presented here, please e-mail us at breedprofiles@pets.ca.