Miniature Schnauzer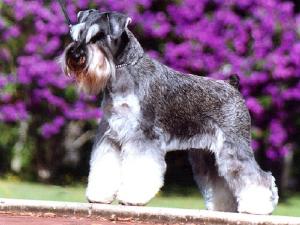 Dog Breed Group

Terrier Dogs

Origin of Breed

Germany, herding and watch dog.

Life Expectancy

12 - 14 Years

Color

Pure black, or pepper and salt.

Coat

Harsh, hard, and wiry.

Exercise Needs

Needs long, brisk, daily walks and loves to play off leash.

Temperament

The Miniature Schnauzer is Lively, very friendly and affectionate. He is energetic and makes an excellent watchdog.

Good with Children

Good with children. Good with other pets.

Grooming Needs

Brush or comb the wiry coat daily or it will become matted. Clip out knots. He should be clipped all over twice a year. Trim aro

Average Size - Male (in)

13 - 14

Average Size - Female (in)

13 - 14

Average Weight - Male (lbs)

13 - 15

Average Weight - Female (lbs)

13 - 15

Health Issues

Bladder stones, liver diseases, skin disorders and cysts.v

Living Conditions

City or country he is an ideal pet for any setting.
Breed Description
The Miniature Schnauzer is energetic, active dog who has clean habits, is neat in size and makes a delightful companion for apartment dweller or someone with a small house and yard. Charming and attractive, the perky Miniature Schnauzers is seldom addicted to wandering, being devoted to his home and family. He is an excellent family pet and children's companion. Known in his native Germany as the Zwergschnauzer he was derived from crossing the Standard Schnauzer with smaller dogs. He was primarily used for herding, protecting the flocks as well as a watchdog.
Breed Infobits
The Miniature Schnauzer is an offshoot from its larger brothers, the Giant and the Standard, and also has Affenpinscher blood in its veins.
The word 'Schnauzer' comes from the German word 'schnauze' which means 'muzzle'.
The Miniature Schnauzer is a dog with a well-balanced personality.
Disclaimer: Pets.ca cannot be responsible for the accuracy of the above presented information. Please double check all information prior to making any decisions about purchasing this or any breed. If you think we have made an error with some of the information presented here, please e-mail us at breedprofiles@pets.ca.