Cesky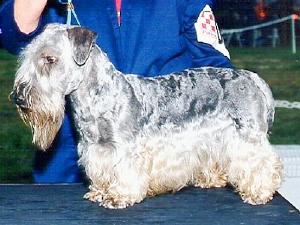 Dog Breed Group

Terrier Dogs

Origin of Breed

Czech Republic, hunting dog.

Life Expectancy

10 - 13 Years

Color

Blue-gray (ranging from silver to dark charcoal). Some are a uniform color, while others have lighter markings (pale gray, yello

Coat

Soft, slightly wavy, with a silky gloss and not overly thick. A fall of hair largely covers the eyes and the Cesky sports a bear

Exercise Needs

Because they love food, exercise is helpful to maintain a healthy weight. However exercise requirements are easily met with a da

Temperament

A balanced, non-aggressive, pleasant and cheerful companion, who is anxious to please and easy to train. The Cesky can be somewh

Good with Children

Cesky Terriers seem to have a natural affinity for children, especially if raised with them, and make playful and loving compani

Grooming Needs

Brushing/combing two times a week. Clipping every 6-8 weeks. Cesky Terriers are non-shedding, so regular grooming is required to

Average Size - Male (in)

10 - 12.5

Average Size - Female (in)

10 - 12.5

Average Weight - Male (lbs)

13 - 22

Average Weight - Female (lbs)

13 - 22

Health Issues

Usually very healthy and robust. Because of the Scottie in it's background, a condition known as Scottie Cramp is possible, but v

Living Conditions

A rugged dog in a small package, the Cesky can thrive in an apartment or in the country, as long as he is close to the people he
Breed Description
The Cesky Terrier is a small but sturdy, rectangular terrier with short legs, drop-ears, long coat and a big heart. Calm, responsive and devoted, the Cesky makes a wonderful family pet in a wide range of living situations. The Cesky is less aggressive and independent, and more eager to please, than the typical terrier. The Cesky Terrier has a relatively short and well-documented history. The breed was developed by Frantisek Horák, a geneticist in the Czech Republic, by crossing a Sealyham Terrier and Scottish Terrier. His aim was to develop a light, short-legged, drop eared, hunting terrier that was easy to groom and train, could hunt fox and badgers in groups, and could "go to ground" and fit in burrows too small for it's parent breeds.
Breed Infobits
The Cesky can be very protective of its family and so makes a great watch-dog.
The endearing expression and amazing sense of play go together to make a cheeky little dog.
Disclaimer: Pets.ca cannot be responsible for the accuracy of the above presented information. Please double check all information prior to making any decisions about purchasing this or any breed. If you think we have made an error with some of the information presented here, please e-mail us at breedprofiles@pets.ca.