Bedlington Terrier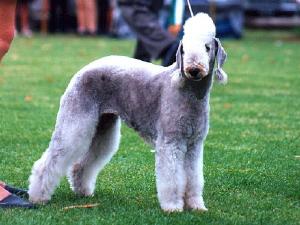 Dog Breed Group

Terrier Dogs

Origin of Breed

England, hunting dog.

Life Expectancy

15 - 17 Years

Color

Blue, liver or sandy, with or without tan.

Coat

Thick and linty.

Exercise Needs

Needs plenty of exercise. Keep him on a leash as he is a fast runner and will give chase to a cat if given the opportunity.

Temperament

He is a rather quiet dog suitable for family life and easy to train. He makes a loyal companion who is affectionate and able to

Good with Children

Good with children. Good with other pets.

Grooming Needs

Regular trimming every six weeks by a professional groomer is required to maintain his peculiar lamblike appearance. He is non-s

Average Size - Male (in)

16.5

Average Size - Female (in)

15.5

Average Weight - Male (lbs)

17 - 23

Average Weight - Female (lbs)

17 - 23

Health Issues

Liver problems, hereditary kidney diseases and eye problems.v

Living Conditions

A home with a big fenced yard.
Breed Description
In full show trim the Bedlington Terrier looks more like a shorn lamb than a dog. A true terrier he is lovable, full of fun, and a terror when its temper is provoked. Formerly known as the Rodbury, Rothbury or Northumberland Fox Terrier. His roots evolved from Northumberland, England where he was used to hunt foxes and weasels. He was crossed with Whippet blood to produce his speed, agility and graceful movement. A popular dog with poachers he earned the nickname of Gypsy Dog.
Breed Infobits
Although the Bedlington Terrier is only a relatively small dog, it does benefit from regular exercise.
The Bedlington Terrier is a gentle dog making a perfect companion for single people and families alike.
Disclaimer: Pets.ca cannot be responsible for the accuracy of the above presented information. Please double check all information prior to making any decisions about purchasing this or any breed. If you think we have made an error with some of the information presented here, please e-mail us at breedprofiles@pets.ca.