Australian Terrier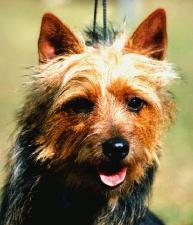 Dog Breed Group

Terrier Dogs

Origin of Breed

Australia, vermin hunter.

Life Expectancy

15 + Years

Color

Blue and tan, grey-blue and tan, the richer these colours the better. Blue on tail very dark. Distribution of blue and tan as fo

Coat

Straight, fine and glossy; silky texture

Exercise Needs

Minimum exercise is needed, but he will enjoy a daily walk or free roam in a fenced yard.

Temperament

Very friendly, quick and responsive.

Good with Children

Good with older children. Good with other pets.

Grooming Needs

Easy to care for coat. Brush his coat a couple of times a week as the brushing stimulates the natural oils in his coat giving hi

Average Size - Male (in)

10 - 11

Average Size - Female (in)

10 - 11

Average Weight - Male (lbs)

12 - 14

Average Weight - Female (lbs)

12 - 14

Health Issues

May suffer from dislocated kneecaps, deterioration of the hip joint and skin problems.v

Living Conditions

Urban, rural, suburban. Apartment is fine if sufficient if daily walks are given.
Breed Description
The Australian Terrier is one of the newer terrier breeds. First exhibited in 1885 as the Australian rough terrier, the perky breed can be traced back to an extinct British breed, the broken-haired, black-and-tan Old English terrier, but it includes in its heritage a number of other terriers, among them possibly the Dandie Dinmont, Skye, Scottish, Cairn, and Yorkshire terriers.
Breed Infobits
Like most dogs the coat of the Australian Terrier will benefit from regular brushing.
The Australian Terrier is a small but confident dog.
The Australian Terrier is are very similar to their cousin, the Yorkshire Terrier.
Disclaimer: Pets.ca cannot be responsible for the accuracy of the above presented information. Please double check all information prior to making any decisions about purchasing this or any breed. If you think we have made an error with some of the information presented here, please e-mail us at breedprofiles@pets.ca.