Labrador Retriever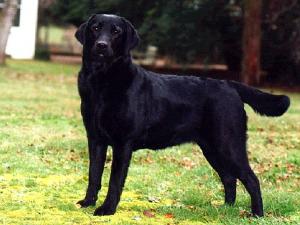 Dog Breed Group

Sporting Dogs

Origin of Breed

Canada as a Hunting Dog

Life Expectancy

10 - 15 years

Color

Black, yellow, chocolate

Coat

Short, straight, and dense, with a water resistant undercoat.

Exercise Needs

High energy level, likes to carry things. Does best with two daily exercises totalling 2 hours.

Temperament

Friendly, outgoing, willing to please. The Labrador Retriever is also responsive, non-aggressive and intelligent.

Good with Children

Excellent with children and other pets.

Grooming Needs

Moderate shedder. Should be brushed 3 times per week.

Average Size - Male (in)

22.5 - 24.5

Average Size - Female (in)

21.5 - 23.5

Average Weight - Male (lbs)

60 - 75

Average Weight - Female (lbs)

55 - 75

Health Issues

Usually hardy. Potential problems with hip dysplasia, epilepsy, progressive retinal atrophy and skin allergies.v

Living Conditions

Adjusts well to all environments. Not a watchdog
Breed Description
The Labrador Retriever is a strongly built, very active dog. Wide over the loins and strong and muscular hindquarters. The Labrador Retriever is good natured, loyal and hardworking. He should never be aggressive. He makes a good gundog and domestic pet. The Labrador was brought from England to Newfoundland Island, Canada in the early nineteenth century. He worked collecting fish that fell out of the nets. He was also used as a retriever for water birds.
Breed Infobits
A yellow pup can sometimes appear in an otherwise all black Labrador litter.
This large dog actually enjoys playing with children and loves to be included in their games.
The Labrador makes a superb companion animal because of its gentle nature.
Labrador Retrievers are commonly used throughout the world as guide dog.
Disclaimer: Pets.ca cannot be responsible for the accuracy of the above presented information. Please double check all information prior to making any decisions about purchasing this or any breed. If you think we have made an error with some of the information presented here, please e-mail us at breedprofiles@pets.ca.