Irish Setter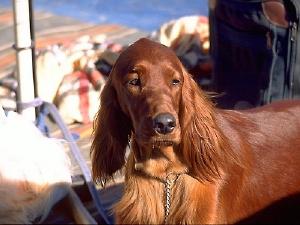 Dog Breed Group

Sporting Dogs

Origin of Breed

Ireland, bird dog

Life Expectancy

12 - 14 Years

Color

Rich chestnut with no trace of black.

Coat

Short and fine on head, fronts of legs and tips of ears; moderately long, free and as straight as possible on rest of the body;

Exercise Needs

Needs a large amount of exercise. Lack of exercise can make him restless and difficult to train.

Temperament

He is a friendly and amusing dog who makes a good pet, gundog or watchdog. The Irish Setter is active and affectionate.

Good with Children

Friendly and patient with children. Good with other pets, if socialization to other animals is given when he is young.

Grooming Needs

Daily combing and brushing is required to keep his coat in excellent condition. Pay special attention during shedding.

Average Size - Male (in)

27

Average Size - Female (in)

25

Average Weight - Male (lbs)

70

Average Weight - Female (lbs)

60

Health Issues

Skin problems, epilepsy, hip dysplasia, bloat.v

Living Conditions

A home with a fenced yard is mandatory.
Breed Description
The Irish Setter is an aristocratic bird dog, who has a rich, lustrous red coat and an expressive face. He enjoys human companionship and may be boisterous at times. A little lighter and speedier than the other setters. Developed by crossing spaniels, setters and pointers he originally had a red and white coat. During the 19th century a chestnut red coat was introduced and is now the only accept color by American standards.
Breed Infobits
The Irish is also commonly known as the Red Setter because of its striking coat color.
Until the early- to mid-nineteenth century, Irish Setters were not only red, but also came in red and white; however, the red and white dogs are now considered a separate breed, the Irish Red and White Setter.
The Setter was originally a wonderful working dog.
The Setter, as its name indicates, takes a half-sitting stance to indicate the presence of the game to the hunter.
The Irish Setter is probably older than the English Setter.
Disclaimer: Pets.ca cannot be responsible for the accuracy of the above presented information. Please double check all information prior to making any decisions about purchasing this or any breed. If you think we have made an error with some of the information presented here, please e-mail us at breedprofiles@pets.ca.