Gordon Setter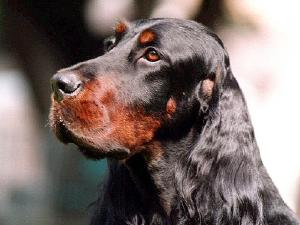 Dog Breed Group

Sporting Dogs

Origin of Breed

Scotland, sportsman dog.

Life Expectancy

10 - 12 Years

Color

Deep, shiny coal black, without rustiness, and with lustrous tan (chestnut red) markings.

Coat

Short and fine on head, fronts of legs and tips of ears; moderately long over rest of body, flat and free from curl.

Exercise Needs

Plenty of regular exercise is necessary to maintain a well-balanced, manageable dog. Long walks and runs are suggested.

Temperament

A lovable, friendly, intelligent dog who is sensitive and gentle. The Gordon Setter is very obediant and loyal.

Good with Children

May be too enthusiastic for younger children. Friendly with other pets, but likes to take charge.

Grooming Needs

Moderate coat care is necessary. Check ear passages on a regular basis. Trim the excess hair beneath the ears to avoid infection

Average Size - Male (in)

24 - 27

Average Size - Female (in)

23 - 26

Average Weight - Male (lbs)

55 - 80

Average Weight - Female (lbs)

45 - 70

Health Issues

Hip dysplasia, progressive retinal atrophy, epilepsy.v

Living Conditions

Can adapt to city living he will do much better in the country. A home with a fenced yard is essential.
Breed Description
A good-sized, sturdily built, black and tan dog, well muscled, with plenty of bone and substance. The Gordon Setter is a tireless worker and enjoys abundant exercise and attention. He is a better watch dog than the other setters, making him a loyal and protective pet. It is possible there were black and tan setter in Scotland long before he was developed by the Fourth Duke of Gordon in the late 1700's. He was bred to be a sportsman dog who would have great stamina.
Breed Infobits
The Gordon Setter makes a good family dog, as it has a playful nature and is slow to anger.
This Setter was originally a wonderful working dog.
The Setter, as its name indicates, takes a half-sitting stance to indicate the presence of the game to the hunter.
Disclaimer: Pets.ca cannot be responsible for the accuracy of the above presented information. Please double check all information prior to making any decisions about purchasing this or any breed. If you think we have made an error with some of the information presented here, please e-mail us at breedprofiles@pets.ca.