Golden Retriever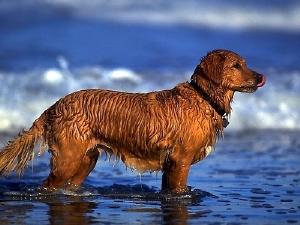 Dog Breed Group

Sporting Dogs

Origin of Breed

Scotland as a hunting dog

Life Expectancy

10 to 15 years

Color

Gold

Coat

Straight or wavy, dense outercoat with water repellant undecoat.

Exercise Needs

Moderate energy level. Does best with two daily exercises totalling 2 hours.

Temperament

Very trainable and excels in obedience training classes. They possesses a personality that is eager, alert and self-confident.

Good with Children

Excellent with children and other pets.

Grooming Needs

Moderate Shedder. Should be brushed 3 times per week.

Average Size - Male (in)

23 - 24

Average Size - Female (in)

21.5 - 22.5

Average Weight - Male (lbs)

65 - 75

Average Weight - Female (lbs)

55 - 65

Health Issues

Hip dysplasia, hereditary cataract and epilepsy.v

Living Conditions

Adjusts well to all environments. Not a watchdog.
Breed Description
Golden Retrievers are a powerful, active dog, sound and well balanced. An ideal sportman's companion, family pet, an excellent gundog, guide or service dog. Golden's love to swim and should be allowed to do so whenever possible. Though he will adapt well to a kennel environment, he prefers human companionship and is not happy in solitude.
Breed Infobits
The Golden Retriever makes an ideal family pet.
The Golden Retriever is said to be a cross between a Tweed Water Spaniel and a yellow retriever.
Disclaimer: Pets.ca cannot be responsible for the accuracy of the above presented information. Please double check all information prior to making any decisions about purchasing this or any breed. If you think we have made an error with some of the information presented here, please e-mail us at breedprofiles@pets.ca.