German Wirehaired Pointer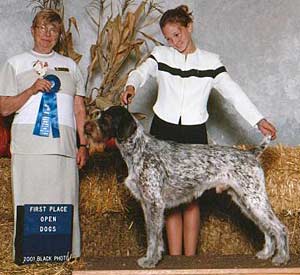 Dog Breed Group

Sporting Dogs

Origin of Breed

Germany, hunting dog.

Life Expectancy

10 - 12 Years

Color

Liver and white, solid liver, black and white.

Coat

Thick and harsh, no longer than 1.5 inches with a dense undercoat

Exercise Needs

Needs a considerable amount of exercise as he is an energetic hunter.

Temperament

Loves human companionship. The German Wirehaired Pointer makes an excellent watchdog. He is active, responsive, gentle, affectio

Good with Children

Good with children. Good with other pets, but may not get along with other dogs.

Grooming Needs

Brush the coat a couple of times a week, bath when necessary. Thinning is necessary in the spring and fall. Regular attention to

Average Size - Male (in)

24 - 26

Average Size - Female (in)

> 22

Average Weight - Male (lbs)

60 - 70

Average Weight - Female (lbs)

60 - 70

Health Issues

Cases of hip dysplasia and entropion. Sometimes hormone problems that affect their coats.v

Living Conditions

A home with a fenced yard is essential. Does not do well in apartment living as he needs extensive exercise.
Breed Description
The German Wirehaired Pointer is a well-muscled, medium sized dog of distinctive appearance. Balanced in size and study built. He has weather resistant, wire-like coat, bushy eyebrows, mustache and beard. An all-around gundog, he likes to hunt birds and small animals making him a high energy dog. Developed in Germany in the late 19th century. He is a combination of the German Shorthaired Pointer, Poodle, Foxhound and terrier.
Breed Infobits
Other names for the German Wirehaired Pointer include: Deutscher Drahthaariger, Vorstehund, German Pointer (Wirehaired), Drahthaar.
Disclaimer: Pets.ca cannot be responsible for the accuracy of the above presented information. Please double check all information prior to making any decisions about purchasing this or any breed. If you think we have made an error with some of the information presented here, please e-mail us at breedprofiles@pets.ca.