German Shorthaired Pointer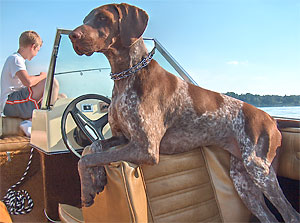 Dog Breed Group

Sporting Dogs

Origin of Breed

Germany, hunting dog.

Life Expectancy

14 - 16 Years

Color

Solid liver, liver and white spotted, liver and white spotted and ticked; liver and white ticked, the same variations with black

Coat

Short and flat, coarse to touch

Exercise Needs

Needs plenty of vigorous exercise.

Temperament

An excellent watchdog. The German Shorthaired Pointer is active, responsive, gentle, affectionate and even-tempered. He loves to

Good with Children

Loves to play with children but may be too exuberant with younger ones. Good with other pets, but may chase cats.

Grooming Needs

Minimal grooming should consist of brushing with a firm bristle brush and bathing only when necessary.

Average Size - Male (in)

23 - 25

Average Size - Female (in)

21 - 23

Average Weight - Male (lbs)

55 - 70

Average Weight - Female (lbs)

45 - 60

Health Issues

Health problems are rare but may include hip dysplasia, entropion and epilepsy.v

Living Conditions

Generally unsuited for city life he is not the type of breed to curl up in front of the fireplace all day, he needs activity tha
Breed Description
The German Shorthaired Pointer is a versatile hunter, an all around gun dog capable of high performance in field and water. He prefers to live with people and should not be left alone. If he has to be kenneled he should have a playmate. He was known as early as the 17th century where he was bred as a hunting dog. It is said that the German Pointer was produced by crossing the Spanish Pointer with the Bloodhound.
Breed Infobits
The German Shorthaired Pointer was developed in Germany in the late 1800s.
The German Shorthaired Pointer is definitely a dog for getting the job done, whether it is tracking, hunting, or retrieving.
Although originally bred as a utility working dog, the German Shorthaired Pointer makes an excellent companion and family dog.
Disclaimer: Pets.ca cannot be responsible for the accuracy of the above presented information. Please double check all information prior to making any decisions about purchasing this or any breed. If you think we have made an error with some of the information presented here, please e-mail us at breedprofiles@pets.ca.