Field Spaniel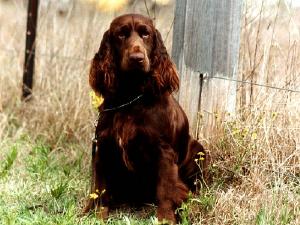 Dog Breed Group

Sporting Dogs

Origin of Breed

England, family pet and field sports dog.

Life Expectancy

10 - 12 Years

Color

Black, liver or roan with tan markings.

Coat

Long, flat and glossy, without curls; silky in texture.

Exercise Needs

Exercise is essential as he is a very active breed. Frequent runs on a leash and a fenced in back yard are suggested.

Temperament

The Field Spaniel is a docile, affectionate, intelligent breed who is eager to please. He is responsive and friendly.

Good with Children

Good with children. Good with other pets.

Grooming Needs

Moderate care of his silky coat is required. Recommended brushing for 5 minutes twice a week. Professional trimming should also

Average Size - Male (in)

18

Average Size - Female (in)

17

Average Weight - Male (lbs)

35 - 50

Average Weight - Female (lbs)

35 - 50

Health Issues

Hip dysplasia, eye problems and thyroid.v

Living Conditions

A house with a fenced yard is essential.
Breed Description
The Field Spaniel is a combination of beauty and utility, well-balanced, substantial hunter-companion of medium size. Built for activity and endurance in heavy cover and water. A noble carriage, proud but docile attitude, sound and free-moving. Suited for family life he is also willing to work and is suited for hunting in open terrain. At one time the sporting spaniel family were loosely classified as Field Spaniels, later the family was divided by weight, the larger dogs known as field spaniels the smaller ones Cocker Spaniels.
Breed Infobits
The Field Spaniel comes in a range of colors: black, liver, golden liver, mahogany red, or roan.
Disclaimer: Pets.ca cannot be responsible for the accuracy of the above presented information. Please double check all information prior to making any decisions about purchasing this or any breed. If you think we have made an error with some of the information presented here, please e-mail us at breedprofiles@pets.ca.