English Springer Spaniel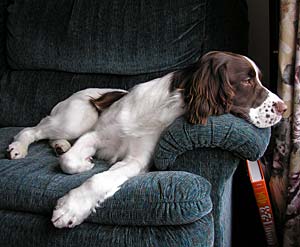 Dog Breed Group

Sporting Dogs

Origin of Breed

England, hunting dog.

Life Expectancy

10 - 15 Years

Color

Liver and white, black and white, tan markings

Coat

Close, straight and weather resistant; never coarse

Exercise Needs

Needs long daily walks and the opportunity to run and play off of the leash.

Temperament

English Springer Spaniels make an excellent family companion as well as a working dog. The Springer Spaniel is willing, active,

Good with Children

Good, with proper socialization. Good with other pets.

Grooming Needs

Regular grooming of the coat with a stiff bristle brush. Bathe only when necessary. Occasional trimming of ears and pads of the

Average Size - Male (in)

20

Average Size - Female (in)

19

Average Weight - Male (lbs)

49 - 55

Average Weight - Female (lbs)

49 - 55

Health Issues

Usually sound and healthy. May have eye abnormalities or ear infections.v

Living Conditions

Enjoys living in the house but having a fenced in backyard. Does not do well in small apartments.
Breed Description
The English Springer Spaniel is a medium-size sporting dog with a neat compact body and a docked tail. One of the largest of the spaniels. Handsome and robust he excels in the field at flushing out game. One of the oldest spaniels, he was originally known as the Norfolk Spaniel. He gained his title of "springer" because of his usefulness in "springing" game for the gun.
Breed Infobits
The English Springer Spaniel is a robust and intelligent dog.
Disclaimer: Pets.ca cannot be responsible for the accuracy of the above presented information. Please double check all information prior to making any decisions about purchasing this or any breed. If you think we have made an error with some of the information presented here, please e-mail us at breedprofiles@pets.ca.