English Cocker Spaniel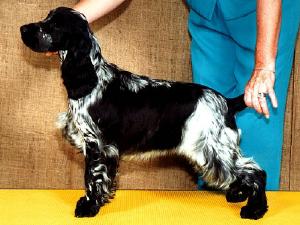 Dog Breed Group

Sporting Dogs

Origin of Breed

England, field sports dog and family pet

Life Expectancy

12 - 15 Years

Color

Various

Coat

Flat and silky in texture.

Exercise Needs

Enjoys as much exercise as he can receive. Daily walks and free run should be part of his routine as he is a sporting breed.

Temperament

A gentle pet he is also called the Merry Cocker because of his energetic, playful, eager to please nature. The Spaniel is respon

Good with Children

Good with children, but they need to be taught to be gentle. Usually gets along well with other pets.

Grooming Needs

Brush and comb three times a week to remove dead hair and keep coat shiny and lying flat. Bathe or dry shampoo when necessary. C

Average Size - Male (in)

16 - 17

Average Size - Female (in)

15 - 16

Average Weight - Male (lbs)

28 - 34

Average Weight - Female (lbs)

26 - 32

Health Issues

Inherited eye diseases, ear infectionsv

Living Conditions

He can live in an apartment as long as sufficient exercise is provided. Does best with a home with a fenced yard.
Breed Description
The English Cocker Spaniel is the smallest in the gundog group yet he is able to flush out and retrieve game birds from undergrowth. He is compact but bigger than the American Cocker Spaniel. The spaniel family originated in Spain. In the 1800's the spaniels were divided into two groups; springers who's function was to "spring game"; and cockers named for their ability o flush and retrieve birds from dense undergrowth. The English cocker spaniel descends from the cocker dogs developed in Wales and southwest England.
Breed Infobits
The English Cocker Spaniel has a very graceful movement as it bounds around in a determined manner.
The English Cocker Spaniel was employed as a marvelous finder of game.
Disclaimer: Pets.ca cannot be responsible for the accuracy of the above presented information. Please double check all information prior to making any decisions about purchasing this or any breed. If you think we have made an error with some of the information presented here, please e-mail us at breedprofiles@pets.ca.