Curly Coated Retriever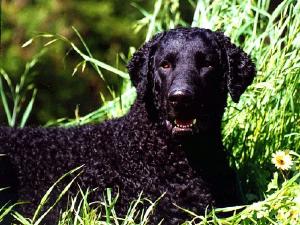 Dog Breed Group

Sporting Dogs

Origin of Breed

England, field sports dog and family pet.

Life Expectancy

8 - 10 Years

Color

Black or liver

Coat

A mass of crisp, small curls all over, except on face.

Exercise Needs

Exercise consist of a long daily walk, outdoor activity such as fetching sticks and swimming.

Temperament

The Retriever is responsive, friendly, affectionate, proud. It shows activity, endurance and intelligence.

Good with Children

Good with children, provided they do not pester him. Usually gets along well with other animals.

Grooming Needs

Minimal coat care is required. Periodic brushing is all that is needed.

Average Size - Male (in)

25 - 27

Average Size - Female (in)

25 - 27

Average Weight - Male (lbs)

70 - 80

Average Weight - Female (lbs)

70 - 80

Health Issues

Cancer, hip dysplasia, skin disorders.v

Living Conditions

A home with a fenced yard is essential.
Breed Description
The Curly-Coated Retriever is a strong smart upstanding dog. He has an excellent nose and a good memory. A superb swimmer with great stamina he knows how to carry dead or wounded animals gently in his mouth. He has also been known to work over difficult terrain. A crossed between the Newfoundland, the English Water Spaniel, the Irish Water Spaniel, and the Poodle. He was very popular during the nineteenth century but has lost a lot of support today. He is most often now found in Australian and New Zealand.
Breed Infobits
The Curly Coated Retriever has a good bark and makes an excellent watch-dog.
Disclaimer: Pets.ca cannot be responsible for the accuracy of the above presented information. Please double check all information prior to making any decisions about purchasing this or any breed. If you think we have made an error with some of the information presented here, please e-mail us at breedprofiles@pets.ca.