Clumber Spaniel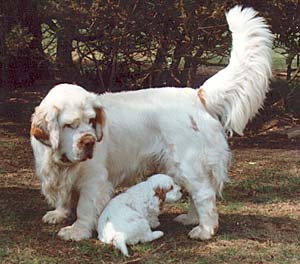 Dog Breed Group

Sporting Dogs

Origin of Breed

France, hunter and family pet.

Life Expectancy

10 - 15 years

Color

Plain white body with lemon markings preferred; orange permissible; slight head markings and freckled muzzle.

Coat

Abundant, close and silky. Body coat is dense, straight and flat. Feathering on eyes, legs, belly and tail.

Exercise Needs

Requires a good amount of walking to prevent him from becoming obese.

Temperament

Friendly, affectionate, intelligent but sometimes reserved he makes an ideal companion for an active elderly person or a family

Good with Children

Good with children and other pets.

Grooming Needs

Coat needs frequent brushing and bi-monthly trimming.

Average Size - Male (in)

19 - 20

Average Size - Female (in)

17 - 19

Average Weight - Male (lbs)

70 - 85

Average Weight - Female (lbs)

55 - 70

Health Issues

Hip dysplasia, back problems, retinal dysplasia and entropion.v

Living Conditions

Country home or a home with a large backyard.
Breed Description
The Clumber Spaniel is first and foremost a gun dog, they may look heavy and stubby, but are very good hunters. Sometimes known as the "Gentleman's Gun Dog", he is the largest of all spaniels. He does have a tendency to be lazy if left alone, but will always be ready to join a walk or go hunting. Named for the Clumber Estate of the Duke of Newcastle he is believed to have originated with the Duc de Noailles who moved his kennel to England for sanctuary during the French Revolution.
Breed Infobits
Said to have come from the Basset Hound or early Alpine Spaniel blood.
Disclaimer: Pets.ca cannot be responsible for the accuracy of the above presented information. Please double check all information prior to making any decisions about purchasing this or any breed. If you think we have made an error with some of the information presented here, please e-mail us at breedprofiles@pets.ca.