Brittany Spaniel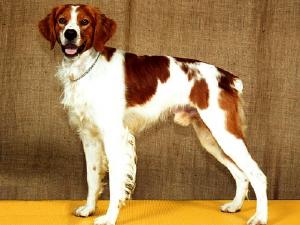 Dog Breed Group

Sporting Dogs

Origin of Breed

France

Life Expectancy

10 - 12 Years

Color

Orange/white, liver/white, tri-colored, roan patterns.

Coat

Dense, flat, wavy coat, not curly, some feathering on the legs.

Exercise Needs

Regular exercise is necessary or he may become restless.

Temperament

The Brittany is loyal, obedient, friendly, highly intelligent and active. He is alsoo strong, vigorous, energetic and has quick

Good with Children

Pleasant with children. Good with other pets. Should not be rough-housed with.

Grooming Needs

Minimal trimming of hocks and feet. Grooming twice a week. Regular nail care.

Average Size - Male (in)

17.5 - 20.5

Average Size - Female (in)

17.5 - 20.5

Average Weight - Male (lbs)

30 - 40

Average Weight - Female (lbs)

30 - 40

Health Issues

Healthy dog. Some cases of hip dysplasia, glaucoma, skin problems by allergies. Possibility to be high strung and nervous if poov

Living Conditions

Prefers a home with a back yard. Can adapt to to apartment living.
Breed Description
The Brittany (or Brittany Spaniel) is a compact, closely knit dog of medium size, leggy in appearance. He can be tail-less or have his tail docked to approximately four inches. The Brittany's first love is birds then people. He makes an excellent pointing bird dog because of his keen sense of smell. It is possible that he may date back as far back as 150 A.D. More accurately he can be found in French and Dutch paintings and tapestries from the 17th century.
Breed Infobits
The Brittany Spaniel is usually kept as a companion or show dog, where its good looks and gentleness are highly desirable.
He is the only spaniel that points to game.
Disclaimer: Pets.ca cannot be responsible for the accuracy of the above presented information. Please double check all information prior to making any decisions about purchasing this or any breed. If you think we have made an error with some of the information presented here, please e-mail us at breedprofiles@pets.ca.