American Water Spaniel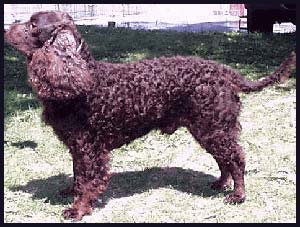 Dog Breed Group

Sporting Dogs

Origin of Breed

United States

Life Expectancy

10 - 12 Years

Color

Solid liver or dark chocolate. A little white on toes or chest is common.

Coat

Uniformly wavy or closely curled; undercoat.

Exercise Needs

Vigorous exercise is essential and he should be allowed to swim on occasion.

Temperament

A sturdy little dog, has a good nose, a fondness for water, is a busy worker, eager to please and easily trained.

Good with Children

Exceptionally good with children. Gets along well with other animals.

Grooming Needs

Bi-weekly brushing to remove dead hair and prevent matting. Minimal bathing.

Average Size - Male (in)

15 - 18

Average Size - Female (in)

15 - 18

Average Weight - Male (lbs)

30 - 45

Average Weight - Female (lbs)

25 - 40

Health Issues

Skin problems.v

Living Conditions

House with a fenced yard. He will adapt to any environment as long as he is with his family.
Breed Description
The breed is "American made." It was developed in the Wolf and Fox River Valley region of East-Central Wisconsin. The rivers and large lakes they feed, Poygan, Butte des Morts and Winnebago, provided a waterfowl gunner's paradise in the late 1800's. They required a sturdy little dog that could shake off the cold and work marsh cover, yet could fit into a small canoe or skiff. It was for this purpose the breed was developed. Some say the breed developed from crosses of the now extinct English Water Spaniel, Irish Water Spaniel and the Flat Coated Retriever.
Breed Infobits
The American Water Spaniel makes a good companion animal.
Disclaimer: Pets.ca cannot be responsible for the accuracy of the above presented information. Please double check all information prior to making any decisions about purchasing this or any breed. If you think we have made an error with some of the information presented here, please e-mail us at breedprofiles@pets.ca.