Italian Spinone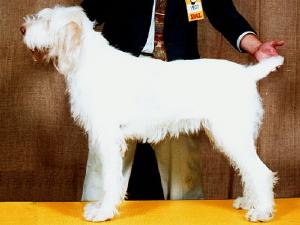 Dog Breed Group

Other

Origin of Breed

Italy, hunting dog.

Life Expectancy

12+ Years

Color

Pure white, white with orange markings, white speckled with orange, white with brown (chestnut) markings, roan or roan-brown (ch

Coat

Long and stiff hair garnish the eyebrows and the lips forming eyelashes, moustache and tufted beard. The hair is stiff, dense an

Exercise Needs

Their activity level is low to medium indoors and medium to high outdoors. He can do well with a small yard combined with freque

Temperament

Extremely intelligent, happy, upbeat and enthusiastic, the Spinone Italiano is a pleasant, easy-going breed. He learns fast, but

Good with Children

Loves children. Gets along with other animals.

Grooming Needs

This breed requires just a small amount of stripping - pulling dead hair as opposed to cutting, to neaten the coat. Other than t

Average Size - Male (in)

22.5 - 27.5

Average Size - Female (in)

22.5 - 27.5

Average Weight - Male (lbs)

61 - 85

Average Weight - Female (lbs)

61 - 85

Health Issues

Hip dysplasia, bloating, inherited diseases.v

Living Conditions

Content within a fenced yard, this large dog is nevertheless capable of jumping very high.
Breed Description
The Spinone Italiano, also known as the Spinone, Italian Spinone, or Italian Griffon is a large, rugged dog of distinctive appearance. Everything about this breed indicates great strength as well as stamina. Suited for hunting in all climates and on all terrain. Its coat protects it from the water and freezing temperatures of the swamp. It goes nonchalantly into cold, deep water - being an excellent swimmer and a model retriever. Its innate merits are its sense of smell, setting, retrieving, recovering, and the close ties it has with the hunter. The breed has excelled as a pointer and retriever for centuries. Today he is still a popular hunting dog in other countries, as well as a pet.
Breed Infobits
The Italian Spinone is a good all-purpose dog that loves to be outdoors, chasing and flushing out game.
The Italian Spinone is considered to be one of the premier pointers.
Disclaimer: Pets.ca cannot be responsible for the accuracy of the above presented information. Please double check all information prior to making any decisions about purchasing this or any breed. If you think we have made an error with some of the information presented here, please e-mail us at breedprofiles@pets.ca.