Azawakh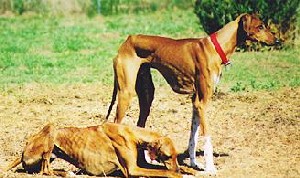 Dog Breed Group

Other

Origin of Breed

Mali

Life Expectancy

12 years

Color

The Azawakh comes in varying colors, to include cream to dark red, white, chocolate, brindle, black, grizzle, and parti-color.

Coat

The coat is short, silky and close to the body. The fine, dry skin is smooth and taut in mature specimens.

Exercise Needs

Needs regular exercise

Temperament

Has a tendency to guard

Grooming Needs

Easy to groom, average shedder

Average Size - Male (in)

25-29

Average Size - Female (in)

24-28

Average Weight - Male (lbs)

44-55

Average Weight - Female (lbs)

33-44
Breed Description
The Azawakh originated in the Sahel region of Africa. They have been bred by the numerous nomadic tribes of the Southern Sahara as hunting and guard dogs, as well as companions. The hound's vocations were, and still are, the chase, guarding and companionship.
Breed Infobits
The Azawakh is also known as the Tuareg Sloughi.
Disclaimer: Pets.ca cannot be responsible for the accuracy of the above presented information. Please double check all information prior to making any decisions about purchasing this or any breed. If you think we have made an error with some of the information presented here, please e-mail us at breedprofiles@pets.ca.