American Pitbull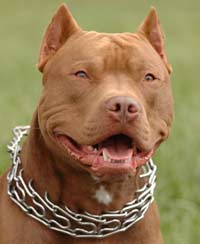 Dog Breed Group

Other

Origin of Breed

United States, fighting dog.

Life Expectancy

12 Years

Color

All colors.

Coat

Thick, short, shiny hair.

Exercise Needs

Needs a substantial amount of vigorous exercise which needs to be on-leash. Enjoys running along side a bicycle.

Temperament

This breed is eager to please and brimming over with enthusiasm. Because most APBTs exhibit some potential level of dog aggressi

Good with Children

The American Pit Bull Terrier makes an excellent family companions and have always been noted for their love of children.

Grooming Needs

Regular brushing with a bristle brush or rubbing down his coat with a chamois will keep the coat shiny and clean. Bath only when

Average Size - Male (in)

18 - 22

Average Size - Female (in)

18 - 22

Average Weight - Male (lbs)

30 - 80

Average Weight - Female (lbs)

30 - 80

Health Issues

Reasonably free of genetic weakness.v

Living Conditions

A home with a fenced yard is recommended.
Breed Description
Sometime during the nineteenth century, dog fanciers in England, Ireland, and Scotland began to experiment with crosses between Bulldogs and Terriers, looking for a dog that combined the gameness of the terrier with the strength and athleticism of the Bulldog. The result was a dog that embodied all of the virtues attributed to great warriors: strength, indomitable courage, and gentleness with loved ones. Immigrants brought these bull and terrier crosses to the United States. The American Pit Bull Terrier's many talents did not go unnoticed by farmers and ranchers who used their APBTs for protection, as catch dogs for semi-wild cattle and hogs, to hunt, to drive livestock, and as family companions. Today, the American Pit Bull Terrier continues to demonstrate its versatility, competing successfully in Obedience, Tracking, Agility, Protection, and Weight Pulls, as well as Conformation. The American Pit Bull Terrier is a medium-sized, solidly built, short-coated dog with smooth, well-defined musculature. This breed is both powerful and athletic.
Breed Infobits
The essential characteristics of the American Pit Bull Terrier are strength, confidence, and zest for life.
Disclaimer: Pets.ca cannot be responsible for the accuracy of the above presented information. Please double check all information prior to making any decisions about purchasing this or any breed. If you think we have made an error with some of the information presented here, please e-mail us at breedprofiles@pets.ca.