Keeshond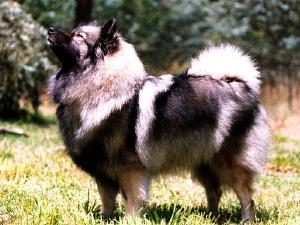 Dog Breed Group

Non Sporting Dogs

Origin of Breed

The Netherlands to hunt vermin

Life Expectancy

13 - 15 years

Color

Mixture of gray, black, and cream; undercoat pale.

Coat

Long and straight with the hairs standing out; a dense ruff over the neck.

Exercise Needs

Will adapt to any exercise regimen whether it is demanding or easy, but he will keep fitter with regular activity.

Temperament

This breed is the typical house dog, watch dog and companion. Today he continues to fill the role for which he was bred centurie

Good with Children

Yes, the Keeshond adores children and gets along well with other pets. It makes a very good watchdog due to its especially good

Grooming Needs

Weekly brushing of his long coat is required with a stiff bristle brush. Take special care as ticks are hard to locate in his de

Average Size - Male (in)

18

Average Size - Female (in)

17

Average Weight - Male (lbs)

55 - 66

Average Weight - Female (lbs)

55 - 66

Health Issues

Hip dysplasia, heart defects and genetic eye diseasesv

Living Conditions

Does well in an urban setting if he is exercised on a regular basis. Should not be locked away from his family. A six foot fence
Breed Description
The Keeshond (plural is Keeshunden) is a natural, handsome dog who resembles the spitz of the northern breeds with his richly plumed tail that curls over his back and his thick coat. His sharp clear bark makes him a good watch dog but he doesn't have a mean bone in his body and is an affectionate and loving companion. In Holland he was called the "smiling Dutchman" for his perpetual good-natured grin. Also known as the Dutch barge dog, he was developed from the northern sleigh dogs of the Artic. Great Britain did the most for the breed with imports from Holland but his name came from Kees de Gyselaer the leader of Dutch patriots against the monarch.
Breed Infobits
The Keeshond is also known as the Wolf Spitz
It is a beautiful Dutch breed with a luxurious coat.
Their confident manner and air of independence make the Keeshonds good watch-dogs.
Disclaimer: Pets.ca cannot be responsible for the accuracy of the above presented information. Please double check all information prior to making any decisions about purchasing this or any breed. If you think we have made an error with some of the information presented here, please e-mail us at breedprofiles@pets.ca.