French Bulldog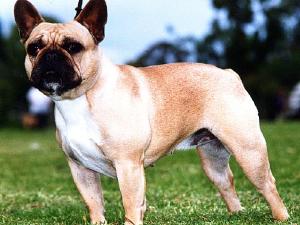 Dog Breed Group

Non Sporting Dogs

Origin of Breed

France

Life Expectancy

10 - 14 Years

Color

Short, smooth, close and finely textured.

Coat

Brindle, pied or fawn.

Exercise Needs

Minimal exercise is needed.

Temperament

This dog is popular and easy to show making a delightful companion for many. Good natured, affectionate and courageous.

Good with Children

Usually gets along well with children and other pets as it as good nature and therefore compatible.

Grooming Needs

Teeth and nails should be tended to regularly. Daily rub down of his coat with a rough cloth.

Average Size - Male (in)

12

Average Size - Female (in)

12

Average Weight - Male (lbs)

Maximum 28

Average Weight - Female (lbs)

Maximum 28

Health Issues

Because of his short nose he tends to snore and has some breathing problems. Heat stroke, eye injuries and skin problems.v

Living Conditions

Apartment or house, fenced yard. Prefers a cooler climate and is more suited for an individualwho could provide it with a one-to
Breed Description
The French Bulldog has the appearance of an active, intelligent, muscular dog of heavy bone, smooth coat, compactly built and of medium or small structure. "Frenchies" are bred primarily as pets and companions, but they do make a good watchdog. He is to some limits a smaller version of the English Bulldog. Frenchies makes good apartment dogs, but do enjoy roaming outside on a lead. A wonderful companion to a small children who loves to play dress-up or a lonely delivery driver looking for a lighthearted partner to ride shotgun. In a family situation he behaves like a child, demanding a great deal of personal attention and interaction. The French claim the breed as theirs, but other would disagree. He is a descendant of small bulldogs, but it is not know whether they were from France or Spain.
Breed Infobits
The French Bulldog doesn't need a lot of room to run round in, but does enjoy the mental stimulation of being taken for a walk.
The French Bulldog is a native French breed, possibly with some British Bulldog blood.
The French Bulldog is an even-tempered dog which really enjoys the company of people.
Disclaimer: Pets.ca cannot be responsible for the accuracy of the above presented information. Please double check all information prior to making any decisions about purchasing this or any breed. If you think we have made an error with some of the information presented here, please e-mail us at breedprofiles@pets.ca.