Boston Terrier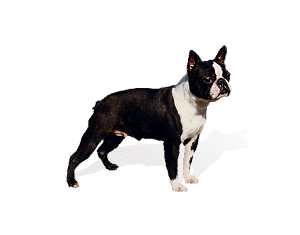 Dog Breed Group

Non Sporting Dogs

Origin of Breed

United States

Life Expectancy

10 - 12 Years

Color

Brindle with white markings, black with white markings

Coat

Short and smooth

Exercise Needs

Regular walks or free play in a fenced yard will keep him in shape.

Temperament

Easy to house train, he learns well if his owner spends time with him. A well-tempered, thoughtful and considerate, this breed w

Good with Children

He is good as a family dog provided he is brought up as one. Gets along well with children and other pets.

Grooming Needs

Rub down with a damp towel several times a week. Bathe only when necessary. Check ears and eyes regularly. Trim nails from time

Average Size - Male (in)

15 - 17

Average Size - Female (in)

15 - 17

Average Weight - Male (lbs)

15 - 25

Average Weight - Female (lbs)

15 - 25

Health Issues

Juvenile cataracts. Breathing difficulties because of his short face. Caesarian operations are sometimes needed to deliver puppiv

Living Conditions

Adapts to urban or country living. A house with a fenced yard, daily exercise and attention.
Breed Description
The Boston Terrier was developed to be a companion and watchdog. He is easy to care for, small in size and has a delightful disposition, he is a odor free dog who rarely sheds. Loves to go for walks or rides in the car, he is one of the most popular breeds in the United States because of his affection nature. A joy to have around, he can sometimes be determined and self willed. Developed in the 1900's, he is considered on of the true American dogs. He was derived from a cross between the French Bulldog and the White English Terrier. Even though he was originally used for fighting, he should not show aggressive behavior towards people.
Breed Infobits
The Boston Terrier is readily trainable, quite sociable, and gets along well with most other dogs.
The Boston Terrier was developed through long breeding of the Bulldog, French Bulldog, the Bull Terrier and the Boxer.
Disclaimer: Pets.ca cannot be responsible for the accuracy of the above presented information. Please double check all information prior to making any decisions about purchasing this or any breed. If you think we have made an error with some of the information presented here, please e-mail us at breedprofiles@pets.ca.