Norwegian Elkhound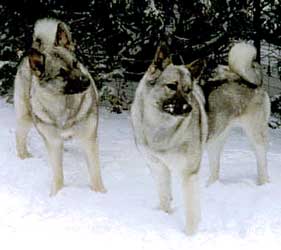 Dog Breed Group

Hound Dogs

Origin of Breed

Norway as a hunting dog

Life Expectancy

10 - 12 Years

Color

Gray with black tipped hairs.

Coat

Dense, smooth lying, weather resistant, outer-coat is coarse and straight with an under-coat that is soft and wooly.

Exercise Needs

Exercise should be at least one hour per day and can consist of a run or free play.

Temperament

The Elkhound is alert, friendly, dependable, trustworthy, independent and dominant

Good with Children

Gets along with children, if children do not pester him. Usually get along well with other dogs.

Grooming Needs

Minimal grooming is required to keep the coat as his coat is both water and dirt resistant.

Average Size - Male (in)

20.5

Average Size - Female (in)

19.5

Average Weight - Male (lbs)

50 - 55

Average Weight - Female (lbs)

45 - 48

Health Issues

Hot spots and shedding problems. Susceptible to subcutaneous cysts and tumors. Possibility to progressive retinal atrophy, lens v

Living Conditions

House with a fenced yard is essential.
Breed Description
The Norwegian Elkhound has the courage, agility and stamina to hold big game at a distance and the endurance to track for hours in all types of weather and terrain. He is extremely versatile. Is a straightforward, equable, friendly and gentle character. Makes a great family pet and home guardian as he is very loyal and protective. Puppies are born black but turn gray in about a week as their fur develops. He can trace his ancestors back 6000 years to the Viking days where he was used as a watchdog and guard against wolves and bears and as a hunter of elk and other large game.
Breed Infobits
The Norwegian Elkhound can scent an elk at several kilometers.
The Norwegian Elkhound is a highly adaptable dog.
Disclaimer: Pets.ca cannot be responsible for the accuracy of the above presented information. Please double check all information prior to making any decisions about purchasing this or any breed. If you think we have made an error with some of the information presented here, please e-mail us at breedprofiles@pets.ca.