Dachshund - Miniature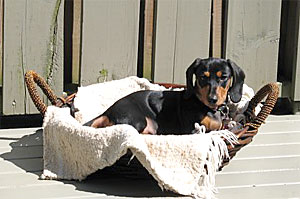 Dog Breed Group

Hound Dogs

Origin of Breed

Germany for hunting badgers

Life Expectancy

up to 16 years

Color

Black and tan or solid red. Also, white and tan, dappled (swirling mixture of brown, gray, white, and black.) Eyes are brown; ey

Coat

Longhaired: Silky, with longer hair on the chest, stomach, legs, and tail. Smooth: Hard and short.

Exercise Needs

Three walks totaling 45 minutes per day.

Temperament

moderate to high energy level. Clever, lively, courageous, bold. Independent and stubborn. Quite barky. Makes an excellent watch

Good with Children

Good with other pets and older, considerate children.

Grooming Needs

Longhaired: Needs to be brushed or combed twice a week. Smooth: Just an occasional brushing is needed.

Average Size - Male (in)

5

Average Size - Female (in)

5

Average Weight - Male (lbs)

11 or under

Average Weight - Female (lbs)

11 or under

Health Issues

This is a popular breed that has been subject to extensive inbreeding. Poorly bred dachshunds are sickly and snappish.v

Living Conditions

Adjusts well to any living conditions.
Breed Description
There are actually 2 major type of Daschund's; the Standard and the Miniature that can be divided into a total of 6 types based on coat; the Standard Longhaired, the Miniature Longhaired, the Standard Wirehaired, the Miniature Wirehaired, and the Standard Smooth, and the Miniature Smooth.
Breed Infobits
Dachshunds are very sociable and get along very well with most other dogs.
The long-haired variety of Dachshund differs from the short-haired variety only by its softer and longer coat.
Most probably the long-haired Dachshund was developed by crossing the short-haired Dachshund with some sort of Spaniel.
Disclaimer: Pets.ca cannot be responsible for the accuracy of the above presented information. Please double check all information prior to making any decisions about purchasing this or any breed. If you think we have made an error with some of the information presented here, please e-mail us at breedprofiles@pets.ca.