Bloodhound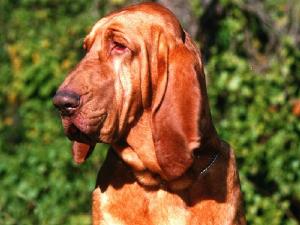 Dog Breed Group

Hound Dogs

Origin of Breed

Belgium

Life Expectancy

9 - 11 Years

Color

Black and tan, liver (red) and tan, or red

Coat

Smooth, short and weatherproof.

Exercise Needs

Requires daily exercise.

Temperament

The Bloodhound is determined, responsive, gentle, affectionate, and sensitive. He makes an excellent family pet and a good watch

Good with Children

Good with children and other pets as long as he is not on the scent.

Grooming Needs

Their short coat requires a rub down with a wet towel several times a week. Toenails need weekly clipping. Care should be taken

Average Size - Male (in)

25 - 27

Average Size - Female (in)

23 - 25

Average Weight - Male (lbs)

90 - 110

Average Weight - Female (lbs)

80 - 100

Health Issues

Inverted eyelids, bloat, hip dysplasia.v

Living Conditions

The edge of a national forest with no neighbors within earshot.
Breed Description
The Bloodhound is a powerful dog that stands over more ground than is usual with hounds of other breeds. He skin is thin to the touch and extremely lose. He is powerful, yet graceful. He has a tendancy to drool, but is otherwise a very clean dog. He has an outstanding ability as a scent hound, superior to other hounds, which has made him very useful in police investigations. The Bloodhound is one of the oldest hound breeds. His ancestry can be traced to eight century Belgium. He was brought to Britain by William the Conqueror in 1066. His name comes from the English blue bloods who helped nurture the breed.
Breed Infobits
Gifted with the finest sense of smell, the Bloodhound has been used to unearth small game and find lost people, buried miners and hidden treasure.
The Bloodhound was created by the monks of St. Bernard.
Disclaimer: Pets.ca cannot be responsible for the accuracy of the above presented information. Please double check all information prior to making any decisions about purchasing this or any breed. If you think we have made an error with some of the information presented here, please e-mail us at breedprofiles@pets.ca.