Old English Sheepdog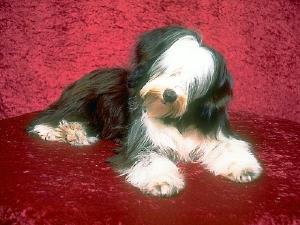 Dog Breed Group

Herding Dogs

Origin of Breed

Scotland

Life Expectancy

12 - 13 Years

Color

Shades of gray, grizzle or blue.

Coat

Profuse but not excessive and a good harsh texture.

Exercise Needs

A leisurely daily stroll will prove sufficient exercise.

Temperament

The Old English Sheepdog is active, playfull and clever. Not a lazy dog, he will take a relaxed attitude toward exercise. . He i

Good with Children

Gets along exceptional well with children. May be too rambunctious for small children. Enjoys the company of other pets.

Grooming Needs

Constant care is needed to maintain his longhaired coat. Brush and combed thorough to the dense water proof undercoat at least t

Average Size - Male (in)

24 - 26

Average Size - Female (in)

22 - 24

Average Weight - Male (lbs)

60 - 75

Average Weight - Female (lbs)

50 - 65

Health Issues

Hip dysplasia. He is also not suited for hot climates due to the heavy thick coat.v

Living Conditions

A house with a fenced yard is essential.
Breed Description
The Old English Sheepdog is a shaggy working dog developed in early 18th-century England and used primarily in driving sheep and cattle to market. It is a compact dog with a shuffling, bearlike gait. Its dense coat is weather-resistant and long enough to cover the eyes, though it does not obscure vision. The coat may be gray or blue-gray, with or without white markings. The dog is often called "bobtail" because its tail is usually removed soon after birth.
Breed Infobits
The Old English Sheepdog is probably the product of crosses between the Bearded Collie and large European Sheepdogs.
Disclaimer: Pets.ca cannot be responsible for the accuracy of the above presented information. Please double check all information prior to making any decisions about purchasing this or any breed. If you think we have made an error with some of the information presented here, please e-mail us at breedprofiles@pets.ca.