Louisiana Catahoula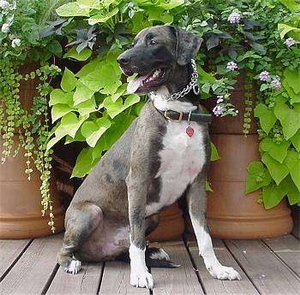 Dog Breed Group

Herding Dogs

Life Expectancy

12 to 13 years

Color

Catahoulas come in an endless variety of coat colors and patterns. The Catahoula may be any solid color except white, with or wi

Coat

short, single coat

Exercise Needs

When the Catahoula plays they can be very noisy and physical. People need to be careful and teach the dog to control their play.

Temperament

The Louisiana Catahoula Leopard Dog is independent, protective, and territorial. Loving with their family and all people they kn

Good with Children

This breed's reservation with strangers should not be noticed in a pup, but will show as the dog matures. Although affectionate

Grooming Needs

Since the Catahoula is a short, single-coated dog, the grooming needs are minimal. They should have a bath a couple of times of

Average Size - Male (in)

22 - 26

Average Size - Female (in)

20 - 24

Average Weight - Male (lbs)

55 - 80

Average Weight - Female (lbs)

55 - 80

Health Issues

Prone to hip dysplasia and deafness. Along with the deafness (both ears or just one) this breed can have eye problems (tunnel viv

Living Conditions

Some do well in apartments while others do not. It all depends on the lines of the dog and how much time an owner spends with th
Breed Description
The short, single coat is colored in a merle or black/tan pattern. Some coats can be course, but most are short and tight. Color is an especially notable feature in this herder: eye color and coat color working in a very complementary and expressive way. The skull is broad and flat. The legs are solid and strong boned. The deep chest provides for good heart and lung capacity. The origins of the Louisiana Catahoula Leopard Dog are unknown but it is believed to be descended from crosses between Native American dogs, Red Wolves (some of whom lived as pariahs on the outskirts of Indian villages), and the dogs brought to the New World by Spanish conquistadors, probably mastiff-types and sighthounds. Some experts believe Beaucerons were added to the mix when the area was settled by the French. White settlers in Louisiana found the Native Americans using these unusual-looking dogs to hunt a variety of wild game, including deer, bobcat, wild hog, and bear. The new arrivals soon came to appreciate this versatile breed that was equally capable of scenting, trailing and treeing game, or baying and herding feral hogs and cattle. There are many stories regarding the origin of the breed's exotic name: Catahoula. The most likely is that it is a corruption of the Indian word that meant "Choctaw," the name of a local tribe. The only thing certain is that the Louisiana Catahoula Leopard Dog is an all-American multi-purpose working dog.
Breed Infobits
On July 9, 1979, the governor of Louisiana signed a bill making the Louisiana Catahoula Leopard Dogbreed the official State Dog of Louisiana.
The Catahoula Leopard Dog is the believed to be the result of crosses between the Spanish Mastiff-type war dogs and the generic-type Indian curs that roamed the American South.
Disclaimer: Pets.ca cannot be responsible for the accuracy of the above presented information. Please double check all information prior to making any decisions about purchasing this or any breed. If you think we have made an error with some of the information presented here, please e-mail us at breedprofiles@pets.ca.