German Shepherd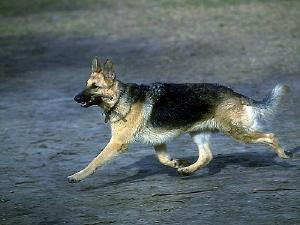 Dog Breed Group

Herding Dogs

Origin of Breed

Germany for herding sheep

Life Expectancy

12 to 14 years

Color

Black and tan, bicolor, golden sable, gray sable, or solid black. Eyes are dark and nose is black.

Coat

Weatherproof double coat, with thick undercoat and dense outercoat.

Exercise Needs

Does best with 4 daily exercise periods totaling 2 hours.

Temperament

Very high energy level. Ultimate versatile working dog. Highly intelligent, fearless and self-confident. Very willing to learn a

Good with Children

Extremely bonded to family. Good with children and other animals.

Grooming Needs

High shedder; Brush daily

Average Size - Male (in)

24 - 26

Average Size - Female (in)

22 - 24

Average Weight - Male (lbs)

75 - 95

Average Weight - Female (lbs)

75 - 95

Health Issues

Poorly bred German Shepherds can be overly nervous, fearful, timid, or aggressive with other dogs.v

Living Conditions

Thrives in suburbs or country.
Breed Description
The German Shepherd Dog is a strong, agile, well muscled dog, alert and full of life. He is extremely intelligent and makes a wonderful companion, show or obedience dog. The German Shepherd is exceptionally trainable and works well as a police, guide, search, rescue dog. He is one breed that becomes truly bonded to his family and may suffer from separation anxiety when apart from his people. Dates back to as early as the 7th Century A.D. The German Shepherds roots are in the mountain sheepdog of Germany. About 1880 the German army modified this breed for work as a military dog.
Breed Infobits
German Shepherds generally get along well with other dogs.
The German Shepherd is ideal for people like police, guards and others who enjoy training and working with their dogs.
The German Shepherd is, as its name suggests, of German origin, was first described in the late 1800s.
The German Shepherd was created as a guard dog.
Disclaimer: Pets.ca cannot be responsible for the accuracy of the above presented information. Please double check all information prior to making any decisions about purchasing this or any breed. If you think we have made an error with some of the information presented here, please e-mail us at breedprofiles@pets.ca.