Entlebucher Mountain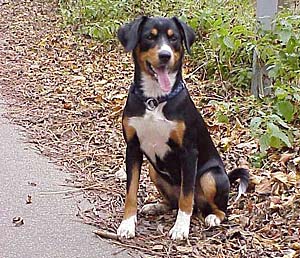 Dog Breed Group

Herding Dogs

Origin of Breed

Switzerland; originates from Entlebuch, a valley in the district of the Cantons Lucerne and Berne

Color

Tri-colored black, white and rust with symmetricalmarkings on the toes, chest and blaze; the rust always lies between theblack a

Coat

Short,thick, hard, glossy coat.

Temperament

Lively, high spirited, self-assured and fearless. Good tempered and devoted towards people familiar to him. Slightly suspicious

Good with Children

excellent around children

Grooming Needs

Weekly brushings are needed.

Average Size - Male (in)

16-22

Average Size - Female (in)

16-22

Average Weight - Male (lbs)

55-70

Average Weight - Female (lbs)

55-70
Breed Description
The Entlebucher was originally used as a watchdog after being introduced to the Roman nobility by Alexander the Great. They were eventually brought into Switzerland andused primarily by Alpine herdsman to drive cattle. Friendly, with pleasant personalities, Entlebuchersenjoy being around people, and other dogs. Easygoing and loyal, Entlebucher are known to become very attached to theirowners. They are exceptionally clean and require little grooming. Overall, these rare, beautifuldogs are wonderful pets.
Breed Infobits
The Entlebucher Mountain Dog is also known as the Entlebucher Sennenhund and the Entlebuch Cattle Dog.
Disclaimer: Pets.ca cannot be responsible for the accuracy of the above presented information. Please double check all information prior to making any decisions about purchasing this or any breed. If you think we have made an error with some of the information presented here, please e-mail us at breedprofiles@pets.ca.