Collie (rough-coated)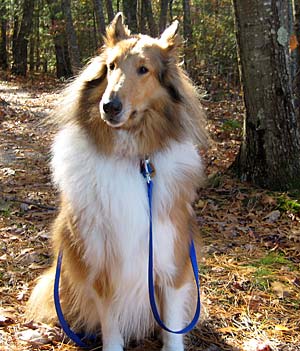 Dog Breed Group

Herding Dogs

Origin of Breed

Scotland, herding sheep

Life Expectancy

12 Years

Color

Sable and white, tri colored and blue merle

Coat

Dense and abundant, straight outer coat, soft dense undercoat.

Exercise Needs

Regular walks or free exercise is necessary.

Temperament

The Collie is Intelligent, gentle and social. It is considered a very good family pet and is ideal for children and other pets a

Good with Children

Excellent with children and usually good with other pets.

Grooming Needs

Coat sheds dirt easily, but 2 weekly brushings will keep it in good condition. Collies shed a lot, take extra care during sheddi

Average Size - Male (in)

24 - 26

Average Size - Female (in)

22 - 24

Average Weight - Male (lbs)

60 - 75

Average Weight - Female (lbs)

50 - 65

Health Issues

Eye problems, bloat, skin infections and hip dysplasia (low incidence)v

Living Conditions

A home with a fenced yard is best.
Breed Description
The Collie presents a picture of true balance, each part being in harmonious proportion to every other part and to the whole. He is considered one of the most beautiful breeds because of his elegant appearance. The Collie comes in two coat varieties, Smooth (less common) Coated and the Rough Coated with the only difference being the length of his coat. The Smooth Coated looks like he has a crew cut. Forever immortalized by "Lassie", he is a true family dog that enjoys human companionship. He is sometimes refer to as the Scottish Collie because of his heritage. All varieties of Collies come from Scotland where he was used in the Scottish Lowlands as a hard working sheepdog. The word "colley" is a Scottish term for a sheep with a black face and legs.
Breed Infobits
The Collie both stands and then runs with a special dignity and grace.
The Collie has long been an outstanding sheepdog.
Disclaimer: Pets.ca cannot be responsible for the accuracy of the above presented information. Please double check all information prior to making any decisions about purchasing this or any breed. If you think we have made an error with some of the information presented here, please e-mail us at breedprofiles@pets.ca.